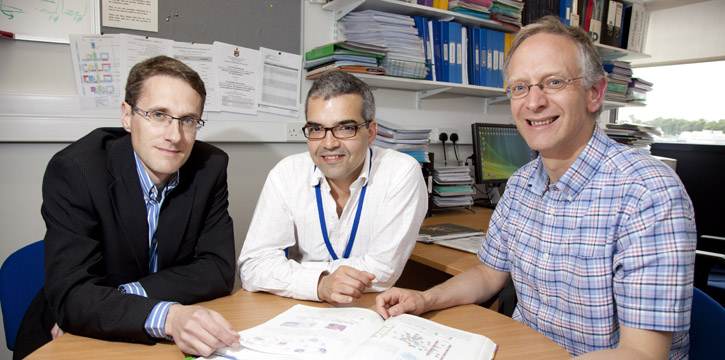 The Rheumatology Research Group (RRG) has been awarded an additional £40,000 from Arthritis Research UK to extend its Experimental Arthritis Treatment Centre, part of a network of UK units funded by the charity to support cutting edge research.
The Birmingham Early Arthritis Treatment Centre (BEAT-RA), led by Dr Andrew Filer and Professor Chris Buckley from the Institute of Inflammation and Ageing, was established with an initial grant of £375,000 in 2012 to support the BEACON early arthritis patient cohort and establish ultrasound-guided synovial tissue biopsy techniques with the aim of developing tissue biomarkers of outcome and novel therapeutics in immune mediated inflammatory arthritis.
A unique feature of the BEAT-RA is that it is focussed on the role of stromal cells, such as fibroblasts, in the onset and persistence of rheumatoid arthritis. Recent work supported by BEAT-RA has provided new evidence of different populations of fibroblasts in joint tissue which play distinct roles in the inflammatory process.
With BEAT-RA support a second trial targeting these cells in rheumatoid arthritis at the Queen Elizabeth Hospital has just kicked off. BEAT-RA is pioneering not only the development of the right drug for the right patient, but just as important the right drug for the right type of arthritis, with the aim of identifying specific markers that will help to treat patients more effectively.
The BEACON cohort has recruited over 700 early arthritis patients since its last major amendment in 2012; this funding will continue to facilitate recruitment to the BEACON cohort and research into inflammatory markers in early arthritis. In addition, it will allow us to extend our research into ultrasound imaging techniques that are key to the early identification and treatment of arthritis.