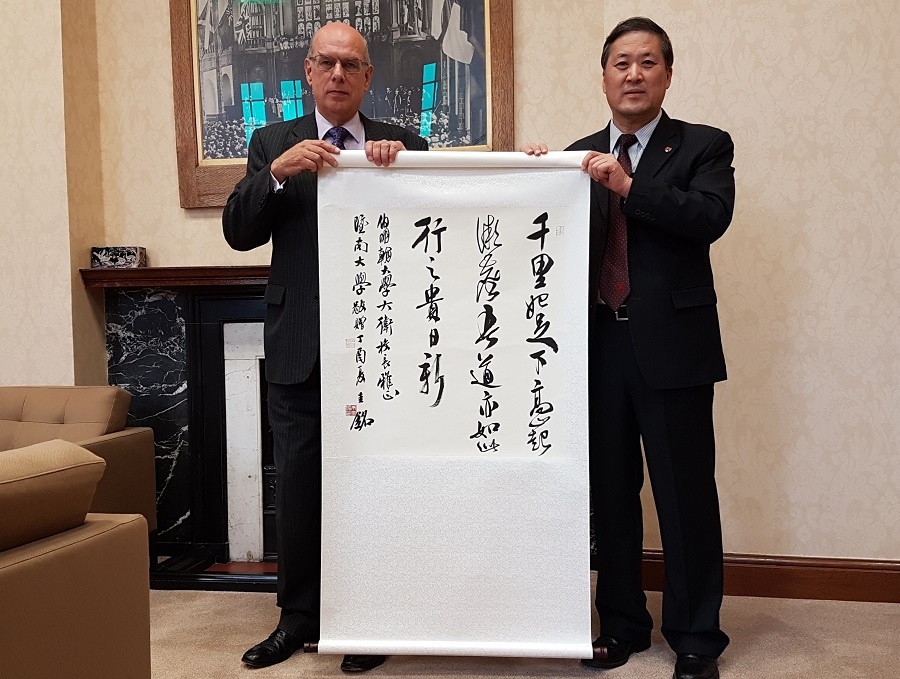 Senior leaders from Jinan University visited the University of Birmingham to mark a new partnership that will allow students to study in China and receive degrees from each university.
The President of Jinan University, Dr Hu Jun and Professor Wang Liwei, Dean of the Jinan University-University of Birmingham Joint Institute visited the Edgbaston campus to learn more about Birmingham's research excellence.
And they met University of Birmingham Vice-Chancellor Professor Sir David Eastwood, following a tour that took in the Mathematics department and the Lapworth Museum of Geology, which is shortlisted for the Museum of the Year award.
Dr Hu and Professor Wang visited Birmingham as part of a major UK visit by leaders from Guangdong province. Party Secretary, Communist Party of China Guangdong Committee, Mr. Hu Chunhua and Mayor of Guangzhou Mr. Wen Guohui led a 20-strong delegation.
The leaders and their fellow delegates attended a special ceremony hosted by Birmingham City Council, where University of Birmingham Provost Professor Tim Jones signed an agreement formalising the partnership with the Guangzhou university.
Professor Sir David Eastwood said: "I am delighted to welcome our visitors from Jinan University, as our joint efforts over the last five years come to fruition, and look forward to welcoming the first cohort of students in our joint institute later this year.
"The Joint Institute is an important part of the University of Birmingham's international strategy and a new adventure for us in delivering joint teaching overseas. I am confident that it will become a successful example of innovative joint teaching programmes in China."
Students will be able to take dual degrees in in Economics, Information Computer Science, Pure Mathematics, and Statistics, each with a strong core of Applied Mathematics. They will be based on the Jinan University campus and taught by both Jinan University staff and University of Birmingham academics on site.
The programme gives students in China the opportunity achieve high-quality dual degrees on the Guangzhou campus, whilst experiencing the teaching and study methods used at the University of Birmingham - part of the Russell Group of leading UK universities and a global top 100 university.
The President of Jinan University, Dr Hu Jun said: "Cooperative education under different universities partnership is an irresistible trend in the development of China's education. An internationally diverse campus is essential to create a comprehensive university with a substantial percentage of its faculty, students and workforce that are international.
"Thus, Jinan University and the University of Birmingham will work together under the intergovernmental agreement, with Jinan's full support in providing facilities as well as highly competitive faculty and Birmingham's efforts to expand development of a new model for education collaboration."
Students apply to do dual degree with Applied Mathematics and four programme choices. There will be 120 places available for students in September 2017 and 1,200 students will be studying for dual degrees by 2020.
They will experience a UK-style education in China. Each of the four-year programmes will include innovative modules designed to develop problem-solving and team-working skills. These skills will build their ability to apply mathematics to real-world problems.
Professor Jon Frampton, Deputy Pro Vice Chancellor (China) and Director of the China Institute, said: "Launching these dual degree programmes marks the start of an exciting new era of close collaboration between our two universities and is testament to our growing reputation in China.
"This presents another exciting opportunity for the University of Birmingham to work in partnership to deliver high-quality education with a global impact, which gives Chinese students skills that are highly sought after by international graduate employers."
The launch of dual degrees with Jinan further expands the University of Birmingham's global teaching offer, with academic partnerships already well established with institutions in China and Singapore. Birmingham has also recently unveiled plans to develop a branch campus in Dubai.
For more information or interviews, please contact Tony Moran, International Communications Manager, University of Birmingham on +44 (0) 121 414 8254 or +44 (0)782 783 2312. For out-of-hours call +44 (0)7789 921165.
The University of Birmingham is ranked amongst the world's top 100 institutions, its work brings people from across the world to Birmingham, including researchers and teachers and more than 5,000 international students from over 150 countries.
It is ranked 7th in the UK for Graduate Employability (Destination of Leavers from Higher Education survey 2014/15) and was named University of the Year for Graduate Employment 2015/16 by The Times and Sunday Times.
The history of collaboration between China and the University of Birmingham dates back almost to the foundation of the University in 1901. The University's China Institute was created in 2012 to reflect Birmingham's extensive academic activities its colleagues undertake in China.