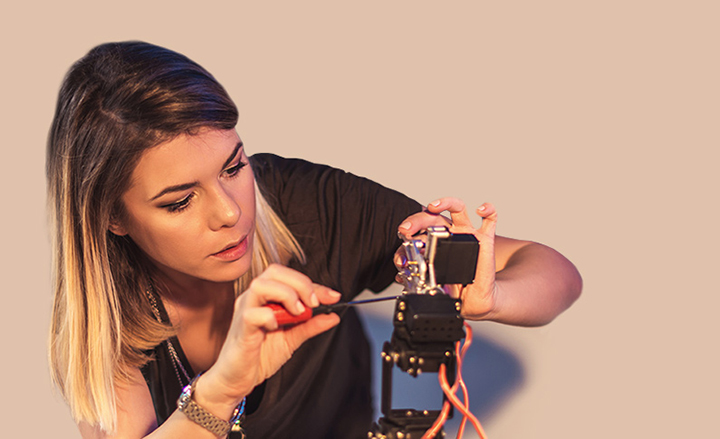 The University of Birmingham and PwC have collaborated to launch a four year, fully-funded technology degree apprenticeship to develop the UK's next generation of technology talent, to meet the needs of industry.
Starting in September 2018, the innovative programme will initially see 40 students a year combining university life with practical work-based technology projects at PwC, Birmingham.
It will be one of the first examples of the new Level 6 Degree Apprenticeships in action. Students will be PwC employees from the first day and receive a salary throughout. At the end of the programme they will come away with a degree in Computer Science from the University of Birmingham and a job at PwC, if they meet performance criteria. The University of Birmingham and PwC will work closely to design the programme to prepare young people for the changing world of work and to equip them with the digital skills in high-demand from businesses.
With PwC research revealing that only 27% of female A-level and university students would consider a career in technology compared to 62% of males, the apprenticeship will aim to drive radical changes in the diversity and social mobility of the professional services' industry by opening up broader access to talented young people. The degree apprenticeship will be particularly targeted to encourage more females to consider technology careers.
Professor Jon Binner, College of Engineering and Physical Sciences at the University of Birmingham, said:
"At the University of Birmingham, we are passionate about providing our students with the best opportunities and experiences possible to prepare them for the world of employment. We are delighted to develop this four-year course with PwC, which will provide our students with the skills set, expertise and experience that are highly in-demand from industry.
"The University of Birmingham is a civic university, and has always welcomed students from all religions and backgrounds on an equal basis. Like PwC, we too believe in addressing the UK's technology skills gap and improving the industry's diversity, and are proud to be instrumental in educating the industry's future talent."
Kevin Ellis, chairman and senior partner at PwC, said:
"We need to invest in creating a vibrant tech sector right across the country and more people with the skills needed to help businesses transform. The demand for technology advice is rapidly increasing, while the pool of available tech talent is shrinking.
"Technology is already fundamentally changing the way we live and work. Rather than fearing these technological changes, we believe it is a huge opportunity to create new jobs and rebalance our economy and society. We see our technology degree apprenticeship as a way to get more young people from across society to be part of this exciting change and to equip them with the skills to be the business leaders of the future.
The University of Birmingham and PwC will work closely to develop a syllabus which prepares students with the right skills for the future, in an area that will be increasingly in demand. The programme also gives young people an alternative option to a traditional degree or apprenticeship, and provides them with the opportunity to experience university life but with practical work-based projects, tailored course content, great job prospects and a salary from day one.
For more information and to register your interest in the programme please complete our short enquiry form.
For further information or interviews contact Emma McKinney, Press Office, University of Birmingham, at +44(0)121 414 6681 or call the Press Office out of hours on +44(0)7789 921 1165.
Please visit PwC's Flying Start degree series for more information.
Please visit PwC's student careers opportunities for more information.
About University of Birmingham
The University of Birmingham is ranked amongst the world's top 100 institutions. Its work brings people from across the world to Birmingham, including researchers, teachers and more than 5,000 international students from over 150 countries.
About PwC
At PwC, our purpose is to build trust in society and solve important problems. We're a network of firms in 157 countries with more than 223,000 people who are committed to delivering quality in assurance, advisory and tax services. Visit the website to find out more and tell us why it matters to you.
PwC refers to the PwC network and/or one or more of its member firms, each of which is a separate legal entity. For further details.
© 2017 PwC. All rights reserved