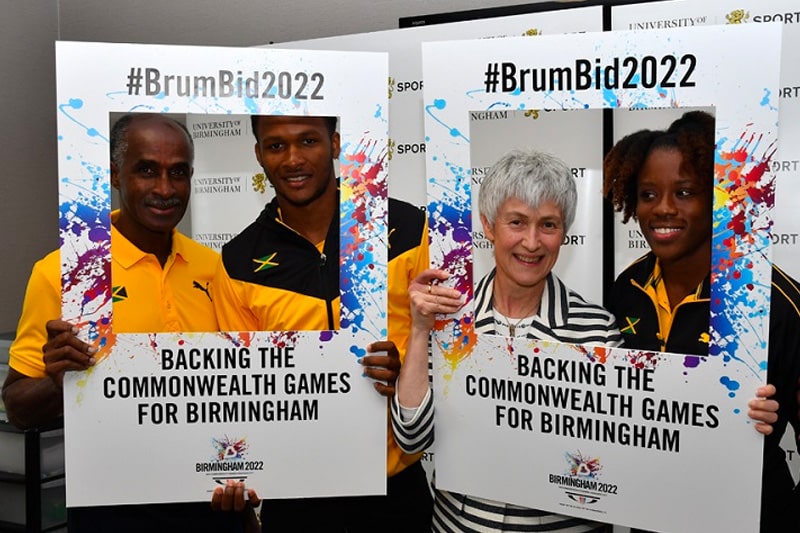 The University of Birmingham welcomes its home city's success in winning the right to host the 2022 Commonwealth Games – with staff and students looking forward to world-class athletes going for Gold on campus.
New squash courts and hockey pitches at the University will become competition venues during Birmingham 2022 following the city's successful bid to host the Games.
Birmingham is one of the UK's leading sporting universities. It has a reputation for providing a world-class training environment on its Edgbaston campus, not only for its own international student-athletes, but also hosting Team Jamaica ahead of the London 2012 Olympic Games and this year's IAAF World Championships.
The University's recently opened new £55 million Sport & Fitness Club includes six squash courts, adjustable to accommodate the larger doubles courts for Commonwealth Games, and 200 spectator seats. Alongside the squash courts is 2,000m² indoor arena and a second sports hall. During the Games, the two halls will be a spectacular setting for the main all-glass squash show court and a secondary show court.
Two existing water-based synthetic pitches have undergone a £2 million refurbishment to ensure they meet International Hockey Federation (FIH) and Commonwealth Games standards. Temporary seating for 5,000 spectators will also be installed for the Games with the University's iconic red-brick buildings providing a stunning backdrop.
University of Birmingham Vice-Chancellor Professor Sir David Eastwood said: "The University of Birmingham is honoured to have been part of this successful bid to bring such a prestigious sporting event to our home city.
"Birmingham is a global university and we have invested significantly in new sporting facilities that match the reputation we enjoy around the world. I look forward to welcoming athletes from every part of the Commonwealth to our beautiful campus and wish them every sporting success for the Games."
Olympic Champion from Rio 2016, Hockey, and University of Birmingham student, Lily Owsley MBE, currently trains at the University. She commented: "Since becoming a student at Birmingham I've had the benefit of being able to study, train and play on this fantastic campus, with world class facilities and support.
"A home Commonwealth Games in Birmingham 2022 will certainly be an incentive for me to continue playing to make the England team for 2022, and play on home ground here on campus. I'm sure it will also inspire many other young players to live their dream of playing for England in a major Games on home turf."
The University of Birmingham has a number of other sports facilities which could be used for teams training ahead of the Games, including a 50m training pool, a new 8-lane 400m track, outdoor pitches, and Chrissie's Gym within the brand new Sport and Fitness building. The 200-station members' gym is named after University of Birmingham alumna, British triathlete and four-time Ironman World Champion, Chrissie Wellington OBE.
Zena Wooldridge OBE, Director of Sport, University of Birmingham, also President of the European Squash Federation and member of Birmingham Commonwealth Games Steering Group, said: "It is absolutely fantastic news that Birmingham will host the 2022 Commonwealth Games.
"The city of Birmingham and the University has a long and pioneering heritage and passion for sport, and this is a once in a lifetime opportunity to welcome the world to a recently transformed city, and a global sporting city. We are absolutely delighted to be a part of such an exciting project for the city.
"With the University's new world-class facilities, including hockey and squash, having the Games here will truly recognise Birmingham as a city of sport, and a city with the venues and capabilities of hosting such exciting international sporting events."
• The University of Birmingham is ranked amongst the world's top 100 institutions, its work brings people from across the world to Birmingham, including researchers and teachers and more than 5,000 international students from over 150 countries.
• It is one of the UK's leading sporting universities, where sport takes centre stage. Earlier this year the University achieved a world top 5 ranking for its research in sport & exercise sciences. Its students and alumni brought home 7 medals (including 4 gold) from the Rio Olympic and Paralympic Games.
• In 2018, the University will co-host the UK Transplant Games, the British Junior Open (squash) and also host the World University Squash Championships.
• The University of Birmingham women's first team compete in the Investec Premier Division of the national hockey league in addition to being champions of the British University and College Sport premier league for the third consecutive year.
• Eleven of the 33-strong senior squad for Team GB women's hockey who are training towards Tokyo 2020 are either current University of Birmingham students or graduates.
• Beyond leveraging university facilities and providing opportunities for thousands of students, a Birmingham 2022 Games will engage young people through a broader education initiative that will support primary and secondary schools. The Games would also help further develop links with education organisations in Commonwealth nations.