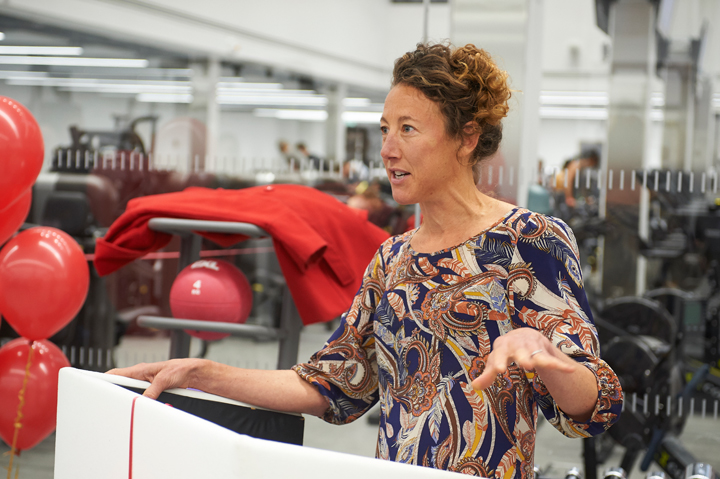 Alumna Chrissie Wellington OBE (BSc Geography, 1998) hopes the next generation of Birmingham athletes will be inspired to new heights after opening a new gym named in her honour.
The four-time World Ironman Champion returned to campus in June to officially open Chrissie's Gym, the state-of-the-art facility within the University's new £55 million Sport and Fitness building. The gym was named after the triathlete following a public vote in the Name of the Game competition.
Chrissie said: 'It's so incredibly humbling to see my name in place on bricks and mortar, and it's important that students see my name up there and see what it implies.
'It should remind a student that more is possible, that they are capable of more than they know, and that their limits are higher than they think. Most importantly, it should tell them not to be afraid to try.
'This gym is about high performance, but it should also bring people of all ages and backgrounds together, promoting the community, a healthy and active lifestyle and greater opportunities for the university, city and individuals.'
Chrissie's Gym contains 200 pieces of cutting edge equipment and complements the other facilities at Sport and Fitness, which includes Birmingham's first 50 metre swimming pool, a large multi-sports arena, six glass-backed squash courts, a 10 metre climbing wall and five activity studios.
She added: 'My dad told me on my first day at the University to make a mark for all the right reasons. To know I have left a mark like this gym is very important to me.
'For me it is less about winning medals, it's more about inspiring people to achieve more and live healthy, active lives. This gym will help the University do that and I was very proud to formally open it.'