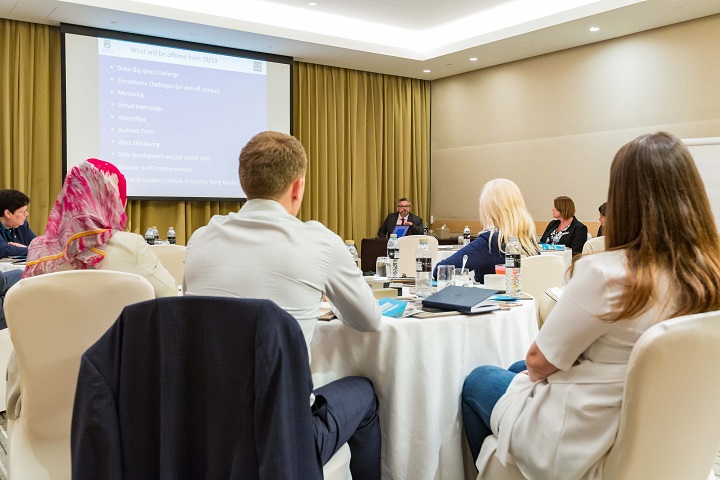 Digital transformation and entrepreneurial culture were hot topics of discussion when University of Birmingham Dubai careers experts met key UAE employers to discover how best to develop talented and entrepreneurially-minded graduates for the Gulf region.
Reresentatives from a range of organisations including the British Council, Chalhoub Group, Hayel Saeed Anam (HSA) Group, CPA Australia, Grant Thornton, Arup and Pearsons attended the inaugural breakfast meeting with University leaders in Dubai.
Chaired by Professor Glyn Watson, Provost of the University of Birmingham Dubai, the meeting, where participants discussed the needs of businesses for graduate talent in Dubai and the region.
Professor Glyn Watson said: "The University of Birmingham is already highly regarded for its graduates' employment prospects – we want to ensure that our students in Dubai graduate with the right industry knowledge and skills for today's global labour market.
"It was great to welcome representatives from a range of high-profile UAE organisations to this meeting. Digital transformation and interaction with technology was a strong focus with conversation extending to the interdisciplinary and multidisciplinary requirements of businesses to meet this challenge.
"A strong entrepreneurial culture and mindset were also key topics and the discussion was extremely informative. We are looking forward to developing these partnerships further as we continue to build the unique offer that will be afforded to University of Birmingham Dubai students when we welcome our first cohort in September."
Birmingham is acknowledged for producing globally employable graduates and was chosen as the Times and Sunday Times University of the Year for Graduate Employment 2016. It is the second most frequently targeted UK university for the top employers looking for graduate recruits, according to High Fliers Research.
The University of Birmingham opens its campus to the first student cohort in September 2018 across a range of undergraduate and postgraduate programmes with plans to establish an active programme of research. It is the first global top 100 and UK Russell Group University to open a campus in Dubai.
For more information, please contact: Samantha Dancy, Footstep Communications on 055 5711006, sam@footstepcommunications.com
The University of Birmingham is ranked amongst the world's top 100 institutions, its work brings people from across the world to Birmingham, including researchers and teachers and more than 5,000 international students from over 150 countries.
University of Birmingham Dubai is the latest phase in Birmingham's global ambitions – building on international teaching activities in Singapore and China, and our extensive international research partnerships.
Highly-experienced academic staff from the University of Birmingham's home campus will travel to Dubai to teach courses to the same standards delivered on our Edgbaston campus. They will work with Dubai-based academic staff recruited for their expert subject understanding and teaching experience.
Initially, Dubai students will have a choice of study areas including Business, Economics, Computer Science, Mechanical Engineering, and Primary and Secondary Teacher Education, with additional programmes offered later.
The University was awarded a Gold rating in the 2016/17 Teaching Excellence Framework (TEF). Student satisfaction with teaching quality and progression of graduates to highly skilled employment / further study were classed as 'outstanding'.
Degrees at the University of Birmingham Dubai will be taught, examined and accredited to the same recognised high standards as those delivered on the University's UK campus in Birmingham. All study programmes carry the approval by the Dubai Government's Knowledge and Human Development Authority (KHDA).