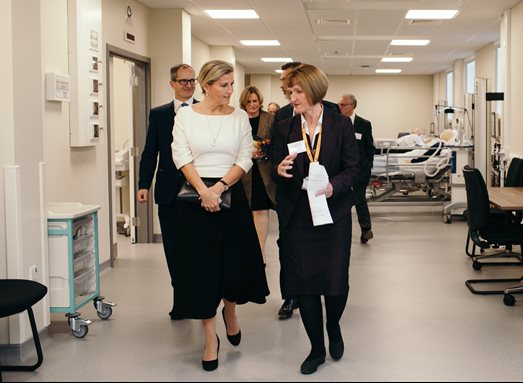 A ground-breaking new centre has opened at the Queen Elizabeth Hospital in Birmingham that will develop innovative new treatments for patients affected by scar related injuries. The Scar Free Foundation Centre for Conflict Wound Research aims to make scar free healing within a generation.
The Centre was formally opened on Tuesday 13 November by her Royal Highness the Countess of Wessex, a patron of the Scar Free Foundation. The new world-class centre has the potential to improve the lives of the estimated 4.5 million people in the UK who currently live with a physical scar which affects their wellbeing.
Professor Janet Lord, a Co-director of the Centre and Director of the Institute of Inflammation and Ageing, said: "The Centre will make a significant impact upon our ability to not only prevent scars forming after tissue injury but also to improve treatment for established scars. The Centre brings together plastic surgeons, biomedical researchers and chemical engineers to deliver novel solutions to these key issues."
A number of researchers from across the University of Birmingham will be involved in the Centre. Professor Ann Logan, working with Professor Liam Grover, has developed a novel wound dressing that incorporates the anti-scarring molecule decorin and their clinical trial will determine if this can reduce scar formation. Professor Naiem Moiemen and Professor Janet Lord will carry out a study of laser therapy to try and understand how this treatment breaks down scars in order to improve it further.
Scarring can have a life-changing physical and psychological impact on those affected. Specialists from University of the West of England, who have developed ways to support patients deal with often very visible scarring, will also be working as part of the research team.
Professor Moiemen, Director of the Centre, commented: "We are delighted to host the new Scar Free Foundation Centre for Conflict Wound Research here in Birmingham. It builds upon our ongoing partnership with the Scar Free Foundation since June 2012, with the Centre for Burns Research. We are honoured to be able to continue our work with Scar Free."