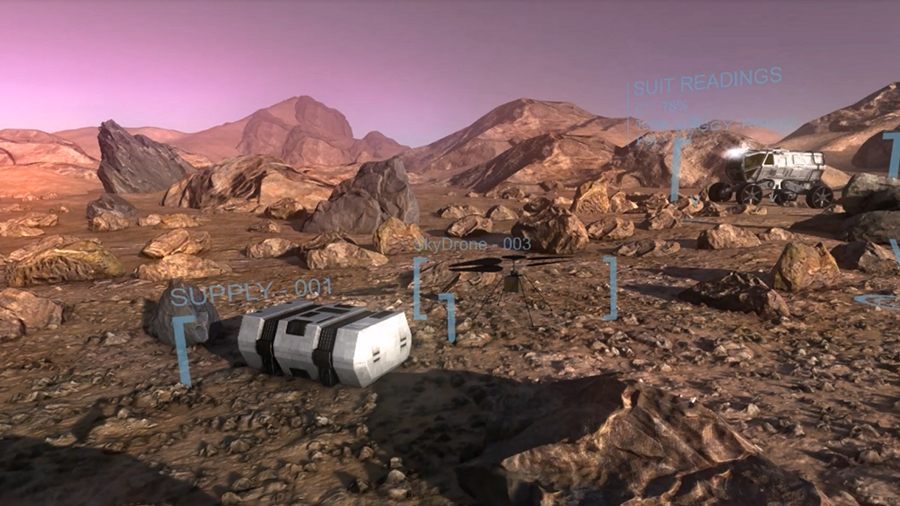 A new Virtual Reality planetary "survival" demo, developed by the University of Birmingham's Human Interface (HIT) Technologies Team, has been featured at the EarthX demo, a leading environmental forum that was held in Dallas, Texas last month.
The demo was developed to support a presentation by John Vickers, the CEO of Blue Abyss, a British organisation developing the world's first extreme environment training, research and technology development facility to support future of outer and inner space exploration by both humans and robots.
In 2017, Blue Abyss welcomed Professor Bob Stone, Director of the University's HIT Team, to their impressive line-up of consultants (which includes former NASA astronauts and Russian Cosmonauts), to fulfil the role of Human Factors and Simulation Consultant. Since then, the HIT Team has been demonstrating how Virtual, Augmented and Mixed Reality (VR, AR and MxR) technologies can deliver cost-effective space and planetary training scenarios to support future exploratory missions.
In the demo (see video below), users find themselves undertaking an extra-vehicular activity (EVA) on a Mars-like surface, surrounded by imposing terrain and various planetary installations, vehicles and surface experimental modules. Their task commences by approaching a planetary drone, which automatically launches and relays "live" aerial images to their EVA helmet heads-up display (HUD). With the threat of an incoming dust storm, depicted visually and via a countdown-to-impact timer integrated as part of the HUD, the user's challenge is to identify and locate a small survival module. The demonstration ends once the survival airlock is entered, or the dust storm hits.
Delegates to EarthX's Electronics, Technology & Innovation area were able to experience the HIT Team's demonstration presented for the first time using End Point Inc.'s Liquid Galaxy panoramic multi-display (see image below). The exhibit was judged to be a success by all who tried it.John Vickers, CEO of Blue Abyss, commented: "The Planetary Survival Scenario was absolutely stunning in its depths, breadth and thoroughness of scenario reality. It demonstrably showcased our intention, desire and ability to use such technology to narrow the gap between a training environment and the reality people will encounter and so can only help in our overall preparation for future mission training. Once again Bob and his team have delivered a superlative and sublime experience."
Professor Bob Stone, the HIT Team's Director said, "Developing this planetary activities demo is just one of the many ideas we have to support the Blue Abyss team going forward with their ambitions to convert the RAF Henlow site into a world-class space and subsea technology centre when it finally closes in 2020. From classroom part-task trainers using VR to more sophisticated MxR simulations, creating a range of scenarios visible on the trainees' helmet visors whilst undertaking activities in the centre's neutral buoyancy tank facility, there is a very exciting future for this collaboration".
As well as the Liquid Galaxy display, users can experience the HIT Team's planetary demo on conventional PC/laptop displays, or by wearing one of a number of current generation VR head-mounted displays, such as HTC's Vive Pro, or Samsung's Odyssey. In the VR headset version of the demo, the simulated aerial images relayed to the user from the airborne drone are displayed via a wearable computer interface which appears on the "astronaut's" arm, linked to the movement of hand controllers delivered with the headset products.
The planetary survival scenario is part of a growing series of MxR scenarios developed by the HIT Team and is designed to show the importance, in technology-based training, of merging real, physical fidelity with computer-generated fidelity. The core of this research is, at the time of writing, being sponsored by the UK's Royal Centre for Defence Medicine and relates to the training of future defence paramedics in Medical Emergency Response Teams (MERTs).
The survival habitat demonstration is a relatively new development to investigate how the Team's Mixed Reality MERT Test Bed, which is based on a unique inflatable and reconfigurable training enclosure, can be adapted to investigate habitability and survival issues associated with planetary exploration. The Team anticipates developing additional space and subsea training-related VR and MxR packages in collaboration with Blue Abyss subject matter experts over the coming years.
Launched in 2003 by Professor Bob Stone, the Human Interface Technologies Team (HIT) has pioneered the development, evaluation and uptake of Virtual Reality and telepresence/telerobotic technologies across heritage, military, healthcare and aerospace sectors.
EarthX brings together environmental organisations, businesses, academic institutions, government agencies, speakers, interactive programming, and subject matter experts along with live music and sustainable beer and food pavilions. EarthX creates a fun and engaging atmosphere for thought and experiential learning while encouraging attendees to be the change they wish to see in the world.