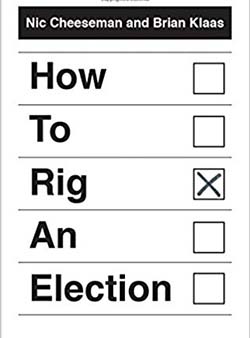 The College of Social Sciences was delighted to present the inaugural lecture of Professor Nic Cheeseman, Professor of Democracy and International Development.
The College of Social Sciences was delighted to present the inaugural lecture of Professor Nic Cheeseman, Professor of Democracy and International Development.
The event took place on Thursday 17 October at Edgbaston Park Hotel and saw around 200 staff, students, and members of the community join Professor Cheeseman to discuss how authoritarian regimes that hold elections are able to remain in power longer than those that refuse to allow the populace to vote.
Professor Richard Black, Pro-Vice-Chancellor and Head of the College of Social Sciences, introduced Professor Cheeseman's lecture. Professor Black spoke about Nic's background in studying and working at Oxford University and his interest in African politics, specialising in democracy, party politics, populism and decentralization. Since finishing his doctorate, Nic has on average published a book a year. His most recent publication with Brian Klaas, How to rig an election provided the basis for his inaugural lecture.
Professor Cheeseman opened his lecture by explaining that the majority of his work has focused around the theme of leadership and the question of "why do leaders make the decisions that they do?". He went on to describe situations in countries that are 'locked in' competitive authoritarianism, where multi-party elections take place but other elements of democracy do not hold. These countries, he showed, hold multi-party elections but many other parts of the political system remain authoritarian – and as a result, the elections they hold often result in little change.
Professor Cheeseman argued that as a result of this situation, the world is experiencing two paradoxical trends. On the one hand, more elections are being held than ever before. On the other hand, the quality of democracy has fallen for twelve years in a row. The key to understanding how these trends can both be happening at the same time, he suggested, is that leaders use the image of democracy to gain legitimacy, while using authoritarian strategies to hold on to power. He then identified the toolbox of strategies that leaders use to do this, known as the 'Dictators toolbox'; gerrymandering, vote buying, stuffing the ballot box, divide and rule, playing the west and election hacking.
Having set out the toolbox and how it is used, Professor Cheeseman then looked at the manipulation strategies that are available to leaders and how they can be viewed in two dimensions. The first dimension relates to how effective they are: high impact strategies can almost guarantee a win, but there are also options that give you a bit of an advantage but are not guaranteed to get you over the line. The second dimension relates to the level of risk that leaders will be exposed to, which may result in them losing their legitimacy. He then spoke of the four different possibilities:
- High Risk/Low impact - Amateur Hour- Strategies that will get you in trouble but won't help you win.
- Low Risk/Low impact - Quiet Rigging- Strategies that tend to go under the radar and can be done ahead of time, but aren't guaranteed to result in victory. An example of this is vote buying.
- High Risk/High impact - Legitimacy Loser- A strategy at any cost strategy, the leader is desperate to keep power no matter what, but it'll be clear to everyone what you have done.
- High Risk/Low impact - Sweet spot- a low-risk strategy that has a profound impact. An example of this is gerrymandering.
Through his interviews with leaders across the world, Nic realised that there has been too much of a focus on the role of individual strategies of rigging elections, and not enough on how leaders combine a range of different options at the same time. We therefore need to talk about a toolbox of complementary rigging techniques. To illustrate this, Nic drew on examples of the 2018 elections in Zimbabwe and Kazakhstan in 2005 as two profiles of risk, effectiveness, repression and reform.
The lecture also provided concrete examples of a number of manipulation strategies. An example of 'amateur hour' was Azerbaijan in 2014, when a mobile app was introduced that was supposed to increase transparency in the results process, but backfired when it published the results a day ahead of the election. He then gave an example of an effective strategy used at the cost of losing legitimacy: the Presidential elections in Madagascar, where President Ravalomanana closed the airports to stop his opponent – who was in exile – from being able to submit his ballot papers in person, which is required under Malagasy law.
Professor Cheeseman finished by discussing the trend of authoritarian learning, which occurs when authoritarian leaders from different parts of the world learn from each other about the ways in different strategies of manipulation are being used in different places. But he struck an optimistic note in his closing remarks, pointing out ways that we can get better at protecting and strengthening democracy.
Professor Mark Webber, Head of the School of Government and Society, closed the event, commenting on the value of not only conducting research but making it useful, and commended Professor Cheeseman for communicating his work to a wider audience through his blogs and media appearances. The lecture was live streamed onto the University's Facebook channel and was watched by 7,000 people worldwide including viewers in Nigeria, South Africa, Iran and Zambia.
Inaugural lectures are a time-honoured tradition at the University. All newly-appointed chairs are invited to give a lecture to a public audience, on their area of specialism.
Read more on Professor Cheeseman's website Democracy in Africa.