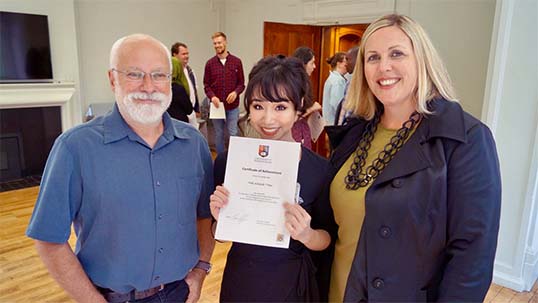 Mai Khanh Tran (known as Mika) was chosen by the panel as the winner for the College of Social Sciences after being nominated by her supervisor for the paper entitled 'The orchestra of ideas: Using music to enhance the 'fuzzy front end' phase of product innovation', for which she is the lead author.
The Michael K. O'Rourke Best Publication Award is a prestigious prize that recognises outstanding achievement in the publication of a postgraduate researcher's work. As well as a certificate, winners also receive a cash prize.
The awards, which are held annually, recognise achievement in both postgraduate research and postgraduate supervision.
Upon winning the award, Mika said 'Being a student of the University of Birmingham is a joy and being recognised for the effort and quality of research by the University is a true blessing. The award brought me a prize and a pride that I wish to share with the amazing people who have been giving me trust and support during my PhD studies. It gave me the strength to strive for excellence in my future work and the confidence to pursue a well-established academic career. I believe this is the beginning of a new, exciting journey in which I can constantly develop myself and expand my contributions'.