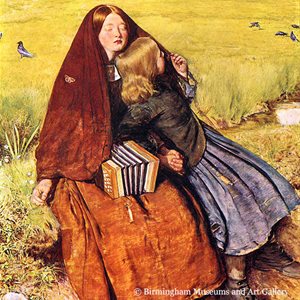 The College of Social Sciences was delighted to present the inaugural lecture of Professor Graeme Douglas, Head of the department of Disability, Inclusion and Special Needs.
The event took place on Friday 13th April, and saw a full audience of 200 staff, students and members of the community join Professor Douglas on campus as he considered vision impairment, disability and education.
The lecture was introduced by Professor Karen Rowlingson, Deputy Head of College who spoke about Graeme's background in Human Psychology and Computer Science before completing his PhD in the area of individual differences in learning and computer presentation. In 1993, Graeme joined the then Research Centre for the Education of the Visually Handicapped (RCEVH) at the University of Birmingham, now the Vision Impairment Centre for Teaching and Research (VICTAR).
The lecture began with an analysis John Everett Millais' painting of The Blind Girl. Graeme offered alternative interpretations of the picture by way of highlighting the complexity of disability. He noted the importance of focusing upon both individual and social implications of vision impairment when looking at education and argued that educational inclusion involves providing both access to learning and teaching learning to access. The two practices complement each other, and over emphasis of either will have negative consequences. Graeme stressed the importance of getting the right balance.
Graeme illustrated this balanced approach through the example of teaching literacy. Part of this example considered the use of computer voice output. He demonstrated a sample voice output at a speed of 500 words per minute, which is a speed commonly used by people with vision impairment when using computers – few in the (largely sighted) audience could understand the fast speech.
The demonstration illustrated that young people with vision impairment must learn these access skills, and time must be given for this teaching and learning to take place. Such skills are important to compensate for slower reading speeds amongst those with vision impairment associated with braille and print. There is a need for time to teach these access skills and to practice as part of an expanded core curriculum in the field of vision impairment education.
Graeme further illustrated the opportunities technology offered by drawing upon other recent research undertaken in VICTAR. In their longitudinal study, Hewett et al (2015) found that all of the students with vision impairment were using mainstream mobile phones, and half also used other mainstream mobile devices (such as tablets). Again this use of these powerful mobile devices had to be learnt; sometimes informally with friends but often they would have been taught by teachers. The short video of Yusuf sending an email from his iPad illustrates this well. Yusuf is a student with vision impairment from Priestley Smith School in Birmingham.
Graeme concluded the lecture by making a more general argument that for an inclusive society it is necessary for schools to embrace a 'broad and balanced curriculum' – it serves all children well, including those children with special educational needs and disabilities. The lecture was closed by Professor Mike McLinden, before the audience and speaker mixed in a drink and canapé reception.