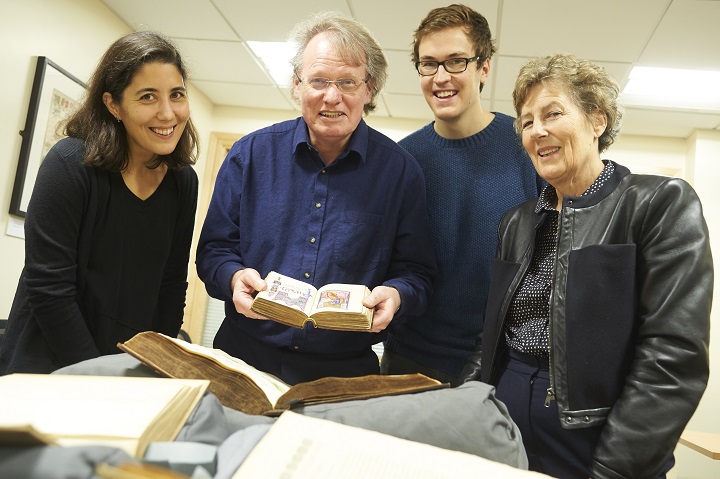 Over 50 top American academics are exploring the cultural and historical resources at the University of Birmingham, as it hosts the prestigious annual Fulbright Forum.
The Forum provides an annual opportunity for American grantees to explore and enjoy a different part of the UK hosted by one of the UK's top universities. It is particularly special this year as the inaugural event in celebration of the US-UK Commission's 70 anniversary.
During the event, 55 American 'Fulbrighters' will have the chance to explore the cultural and historical resources that make the University of Birmingham one of the world's top 100 destinations for academic study and research.
Founded in 1900, Birmingham was England's first civic university and its tradition of innovation contributes to research that is changing lives around the globe.
University of Birmingham Vice-Chancellor Professor Sir David Eastwood said: "We are honoured to welcome Fulbright scholars to the University of Birmingham. We are a global university and our research creates impact around the world; I hope that every scholar will find their visit to Birmingham productive, insightful and thought-provoking."
Penny Egan CBE, Executive Director of the Fulbright Commission, said: "We love working with the University of Birmingham and have more Fulbright partner awards with them than any other university in the UK. We are delighted to be bringing all our American Fulbrighters to experience their warm hospitality."
University of Birmingham academics will lead sessions to engage and challenge the Fulbright scholars, including remarks on topics such as how cultural heritage and global engagement provide distinctive experiences in the global higher education landscape.
Participants have the opportunity to explore the University and its various cultural institutions, including the Lapworth Museum, which is one of the best geological collections in the UK and was recipient of the Art Fund Museum of the Year 2017.
American Laiba Husain, current recipient of the Fulbright University of Birmingham Award, said: "The University of Birmingham is so full of life and colour; there is so much to do and see and I can't wait for the rest of the Fulbright family to join me here for Forum and experience this lively and beautiful city with me."
A particular highlight is a visit to the University's Cadbury Research Library and an opportunity to view the Birmingham Qur'an manuscript with Director of Special Collections Sue Worrall and curator Martin Killeen. The Birmingham Qur'an is one of the oldest surviving Islamic manuscripts, and considered a global treasure.
A digital exhibition of the Birmingham Qur'an recently toured Sharjah and Abu Dhabi, as part of the UK/UAE Year of Creative Collaboration. The innovative exhibition returns in April to Dubai, where – in September 2018 - the University will become the first global top 100 and UK Russell Group institution to open a campus.
Fulbrighters will also visit other cultural hubs in the region, including Stratford-Upon-Avon to visit the University's Shakespeare Institute, where they will enjoy a talk from Professor Michael Dobson, Director of the Institute.
The University of Birmingham is currently a much valued partner of the US-UK Fulbright Commission offering Fulbright awards for both Masters and PhD programmes, as well as hosting Fulbright post-doctoral students and academics to undertake research at the University. It also recently tendered for, and was successful in a bid, to host one of the Commission's popular summer Institutes for American undergraduates to experience all that Birmingham has to offer. Applications for US academics and professionals to lecture and/or research will open in March. The Postgraduate Awards will open in April.
The University of Birmingham is ranked amongst the world's top 100 institutions, its work brings people from across the world to Birmingham, including researchers and teachers and more than 5,000 international students from over 150 countries.
Dating back to 1880, the Lapworth Museum of Geology is one of the leading geological museums in the UK and re-opened in June 2016 after a £2.7 million redevelopment and expansion which transformed an academic university museum into a major new public attraction for Birmingham and beyond. It has helped bring to life internationally-significant scientific collections of over 250,000 specimens, ranging from dinosaur skeletons to volcanic rocks.
The Birmingham Qur'an manuscript is a remarkable fragment of history. Part of the University's Mingana Collection of Middle Eastern manuscripts, it consists of two leaves containing parts of Suras (chapters) 18 to 20 and dates back to the seventh century. It is written in Hijazi, an early form of Arabic script.
The US-UK Fulbright Commission fosters mutual cultural understanding through educational exchange between both nations for 70 years. It achieves this through a wide range of scholarships for US and UK citizens at British and American universities, with more than 27,000 exchanges having taken place to date. Fulbright is funded by the US and UK governments and a range of partners including leading US and UK universities, professional bodies and leading charities. Fulbright also offers an advisory service providing a wide range of information and events to support students, parents and advisors interested in US-UK exchange.