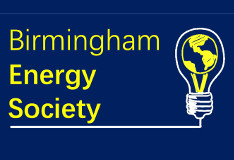 Birmingham Energy Society have continued to spark imagination for University of Birmingham students this term, going from strength to strength since their incredibly successful start-up year in 2018/19 in which they won Head of College Idea of the Year at the EPS Societies' Awards.
Kicking the term off with a slight rebrand, including an updated logo and a refreshed social media presence with a brand new website soon to come, the Society showed no signs of slowing down from last year. If anything, we sped up! Increasing our outreach, creating multiple partnerships such as with Student Energy, and more than doubling our member base through their rebrand. Plus we introduced the incredible offer of BES branded portable chargers as a gift to all new members and free vegan and non-vegan food now being available at all talks. Birmingham Energy Society has continued our journey of increasing awareness and the need for curious students to help make the energy industry more sustainable in the future.
We were fortunate enough to be joined by Professor Martin Freer, Director of the Birmingham Energy Institute (BEI), for our introductory talk of the term. Examining the recent history associated with energy development in the UK, ranging from the pressures linked to resilience and climate change to nuclear energy, wind and carbon capture and storage, as well as the challenges of decarbonising heating and cooling, our first talk was bound to bring in a great crowd – and that it did, with tickets selling out in just two days!
After introducing people to what Birmingham Energy Society is all about, we then set our focus on beginning to attract a more diverse range of students to the Society. Already attracting a large amount of STEM students, ranging from chemical engineers to physicists, we wanted to entice more students from subjects such as economics, geography and politics. After all, the energy crisis at hand will require all sorts of professions to solve! To do this we were proud to announce a talk from John Hamilton, Managing Director of Cross-border Information, regarding the energy investment landscape within the high potential continent of Africa. Showcasing his firm's impressive new innovative and interactive data platform called 'African Energy Live Data', John helped the once again sell-out audience understand how the way in which investment into energy is changing at the moment.
To finish the term's events off, we realised that after such a successful set of events, we could not disappoint. And disappoint we did not. We bought in former BP Chief of Engineering, David Brookes FIMechE FIMarEST CEng, to talk about his incredible first-hand experience as Project Manager of the task to seal the infamous Deepwater Horizon subsea well leak. And what a treat it was! To gain insight into the novel solutions used to stop the leak and overcoming multiple setbacks during an extremely volatile political time, was incredible and helped attract a large audience despite many members having academic deadlines looming. A brilliant way to finish the term!
Inspiring talks weren't the only activities we organised for its members last term either! Taking members to the Climate Change: Turning Consequences into Solutions Conference after being fortunate enough to be invited to the prestigious event at Tally Ho Conference Centre is another prime example of the great stuff we did last term. Collaborations with the Poynting Physical Society for Science on Tap events, as well as invitations to movie premieres such as Birmingham for 2040 (a family friendly documentary on climate change and the future of energy), continue to show the diverse range of activities you can get involved with at BES. As you can tell we've been very busy!
Behind the scenes has been very busy too, with the committee teaming up with BEI to introduce an outreach division whereby members of the committee will be able to go into local schools to introduce a 'Future Energy' workshop. encouraging pupils to think about what energy solutions they think will be best in the future for the UK. After researching and participating in the course weekly for a term, pupils will then be invited to present their ideas.
In addition to this we've also been working hard on our new UoBe SMART campaign which will take off this term. This brand new campaign will encourage and educate students on how they can save energy and money on their bills through easy lifestyle changes in Selly Oak. We're also hoping to team up with a few energy providers to roll out new smart meters in the area.
All in all its been a very busy term for us! We hope you've enjoyed hearing about what we've been getting up to and can't wait for you to see what we have in store for you this term.
Keep the energy flowing!
BES x
Oliver Martin
Chair, Birmingham Energy Society