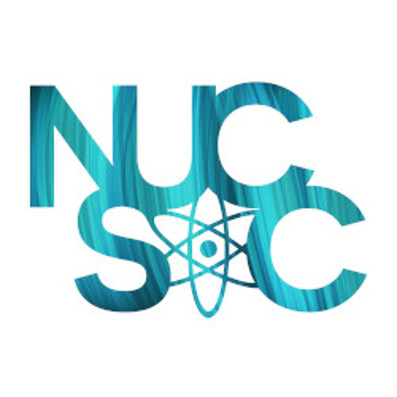 This semester has been as eventful as always for NucSoc with a packed calendar of social and academic events.
We kicked off the year by welcoming our newest members into the Family Scheme where our first years met their NucSoc parents. We find this is a great way for new students joining us to buddy up with students from higher years to help them settle in. Our first major event – BUMS vs NucSoc – was as popular as ever, with undergraduates and postgraduates from both societies turning out in force for a great night at Rosies.
We were happy to welcome new voices into our committee with the election of our Postgraduate and First Year Reps (Shubhnit Seera and Oliver Mitchell), which was quickly followed by a games night where a wide variety of games were enjoyed by everyone.
After making some new friends at the EPS Societies Fair it was time to get back to the academic side of things. We partnered with BUMS to hold an afternoon of student placement talks, where students looking for internship or work opportunities could hear the experiences of their peers who had been on a placement last summer and, of course find out the best ways to secure their own placement.
Next up was the main event in our autumn calendar, the Nuclear Careers Fair. All of the biggest companies in the nuclear sector were there and more than 50 students turned up to find out about the career opportunities available to them.
After an academic start to November we joined ChemSoc and oSTEM for another social, this time at Gales. It was great to mix with other societies and collaborate on a great night! Towards the end of the month we showed our charitable side with our annual charity Christmas quiz which raised over £150 for Macmillan.
As always, the biggest event of the first term was our Christmas meal. This year we joined with AeroSoc to hold a great dinner in Staff House with plenty of Christmas crackers, mince pies and Christmas music to get everyone into the festive spirit. We also raised another £50 for Macmillan thanks to the generosity of our members.
Although the term has drawn to a close, NucSoc haven't slowed down. With the help of the Institute of Physics we were able to give away 2 all expenses paid tickets for an IOP Conference which went to two lucky winners at a membership event we helped host on campus. We're all very excited about improving ties with the IOP for our members and it was a great opportunity to connect in a slightly different and exciting way.
The first term has been an exciting one for NucSoc and we have some even more excited things planned for the new year, we hope to see many of you there. But for now, a very Merry Christmas and a Happy New Year from everyone in NucSoc!