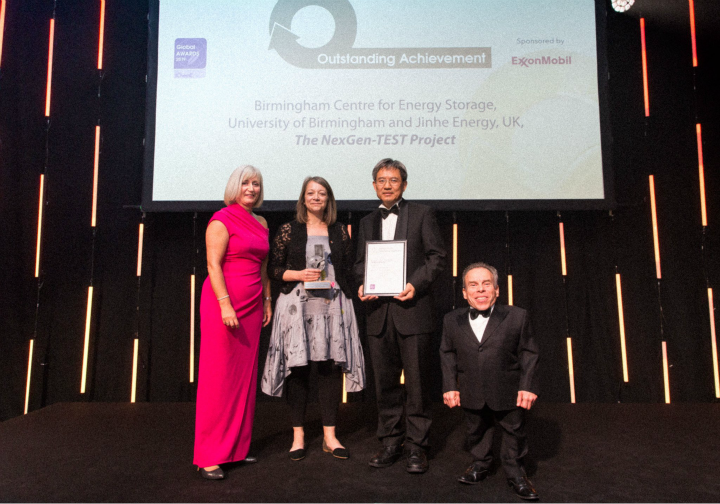 The University of Birmingham's Centre for Energy Storage, together with Chinese firm Jinhe Energy, triumphed at the Institution of Chemical Engineers (IChemE) Global Awards 2019.
The novel technology developed in this partnership could be the key to solving a fundamental issue in the climate change debate – the storage of surplus clean energy.
Called NexGen-TEST, the project won both the Energy Award and Research Project Award, before going on to be presented with IChemE's coveted Outstanding Achievement Award, sponsored by ExxonMobil.
Renewable energy will be key to ensuring the UK, and rest of the world, meets the UN's global climate change targets. However, a major issue with renewables such as wind power is its ability to respond to fluctuating demand. The NexGen-TEST team has taken this problem and commissioned a commercial demonstration plant that replaces coal-fired heating boilers with environmentally friendly materials that absorb and release, when required, thermal energy from wind power.
The plant has harnessed approximately 28,920,000kWh of otherwise wasted wind power, and reduced CO2 emissions by approximately 10,000 tonnes (equivalent to around 3,600 tonnes of coal) since it opened in 2016.
Professor Yulong Ding, Director of the Birmingham Centre for Energy Storage, says: "If we are to meet targets on reduced carbon emissions, we need renewable energy systems that are cheap, reliable, and can respond to fluctuating demand. Our system represents a significant step in the right direction and we're delighted that this has been recognised at the iChemE Global Awards."
IChemE President Ken Rivers said: "Our profession has always shown incredible passion. Today, chemical engineers are constantly striving for better products, improved processes, and more environmentally friendly solutions. Congratulations to all the winners."
For further information please contact Beck Lockwood, Press Office, University of Birmingham, tel 0121 414 2772.
The University of Birmingham is ranked amongst the world's top 100 institutions. Its work brings people from across the world to Birmingham, including researchers, teachers and more than 6,500 international students from over 150 countries.
The IChemE Global Awards celebrate chemical and process engineering excellence. Now in their 25th year, they are widely considered the world's most prestigious chemical engineering awards and recognise outstanding projects, people and companies.