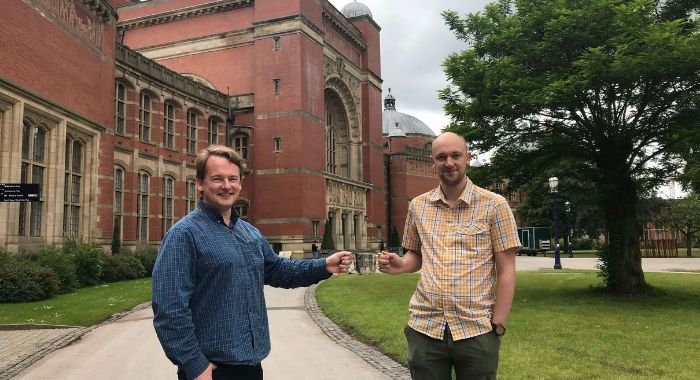 A joint collaboration of two university academics has seen record breaking engagement of over 1.5 million views for their recent research award.
Dr Gareth Dorrian from the University of Birmingham and Dr Ian Whittaker from Nottingham Trent University have recently won the prestigious inaugural 'Sir Paul Curran Award' for excellence in academic communication by The Conversation. Following on from their research award win, the duo have featured in an article in The Conversation which highlights their achievements. Their research has generated extraordinary engagement with over 500 000 views when featured in a recent article which has been republished in a variety of newspapers and magazines. Their research has been featured locally as well as internationally in a variety of media outlets including the Spanish daily "El Pais", and the Daily Mail, and both Gareth and Ian have done an e-mail interview based on it with 'Science et Avenir', a French popular science website.
Sir Paul Curran presented the award to Dr Ian Whittaker, who picked it up on behalf of both authors at a reception in May 2019 in London. Judging was carried out by Sir Paul Curran, in conjunction with members of The Conversation editorial team and The Conversation's Editorial Board.
Sir Paul commented in The Conversation, "The award for academic communication is the first of many awards that I hope we can establish to celebrate the achievements of our authors. It comprises a twin-handled silver cup, manufactured around a hundred years ago and now engraved with the name of both The Conversation and the title of the award. This beautiful trophy will be held (and hopefully polished) by the recipients until next year's ceremony."
Speaking to The Conversation, Dr Dorrian added: "It was quite a surprise to win this award but I am very grateful to have been joint winner along with my colleague. Communicating science is something of a passion of mine, but I never thought I would have the opportunity to really do it until I was introduced to The Conversation. It has proven quite a gateway to me and, I'm sure, many other authors as well who would not otherwise have had the chance to explain their interests to the public. Long may it continue!" He added, "The Conversation gives a wider breadth of academia a chance to communicate their research interests to people of all backgrounds".
Dr Gareth Dorrian started working at the University of Birmingham in May 2019 as a Post-Doctoral Researcher in the Space Environment and Radio Engineering group in the Department of Electrical Engineering at the School of Engineering. The joint collaboration work has covered topics such as Space Travel, The Climate on Planets, and even Conspiracy Theories. Prior to working at the University, he was based at Nottingham Trent University working alongside Dr Ian Whittaker, who is currently a Lecturer in Astro Physics, together they have both co-authored numerous articles for The Conversation (UK).
Gareth and Ian met in 2006 whilst studying for their postgraduate degrees at Aberystwyth University. It was here "where it all started" as they were based in the same postgraduate student office. They soon started a lasting friendship and a blooming business partnership and? collaboration would develop. Following on from their postgraduate studies, the pair have worked together on numerous projects over the years and we look forward to many more to come.