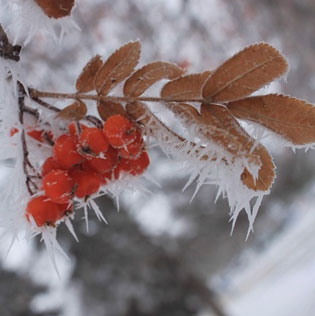 Welcome back and a Happy New Year from the Liberal Arts and Natural Sciences department! We hope you feel well rested after the festive period and are ready for what 2019 has to bring. Over the festive period we have heard from a range of our third year students currently on their Year Abroad and have been enlightened as to how they have been spending their first holidays in their host countries.
"With the snow comes a peaceful quiet that has made the last two months, from the end of Halloween, feel like Christmas. Pumpkins have turned into Christmas trees, and tasteful lights adorn most houses and shops. Christmas here isn't a loud affair, it's gentle, warm, and filled with friends"
Richard captured this brilliant shot of the illuminations at Sydney Opera House and is in Sydney to watch the renowned New Year fireworks display! There will be an extended blog post of Richard's adventures very soon so keep your eyes peeled!
"I'm back home for Christmas but it was definitely a white Christmas in New Brunswick! We got lows of -25, so the English weather feels practically balmy!"
Martha has captured this stunning photograph of her first Winter in Utrecht from Ice skating to wintry woodland walks and Christmas shopping, Christmas in Utrecht is a beautiful affair.
"The one lesson I've learned from Christmas time in America is that they love their wreaths! This photo is from New Orleans all the way back in November!"
Ths photograph comes from Alisha. It's blue skies and palm trees for Alisha's first Australian Christmas!
Sam spotted these penguins and some dolphins on his holiday travels in Argentina. That's something you don't see everyday!
"My Australian Christmas experience was strange, it was hot, I got sunburnt, and being 11 hours ahead meant I was saying Merry Christmas but no one was saying it back. We managed the traditional Christmas dinner in the evening and that felt normal, the pigs in blankets were lovely but they don't sell small sausages here and even the bacon is slightly different but I still ate about 10 as normal - that felt like Christmas."
This photo was taken on a blue-skied Boxing Day at the Cricket in Melbourne!