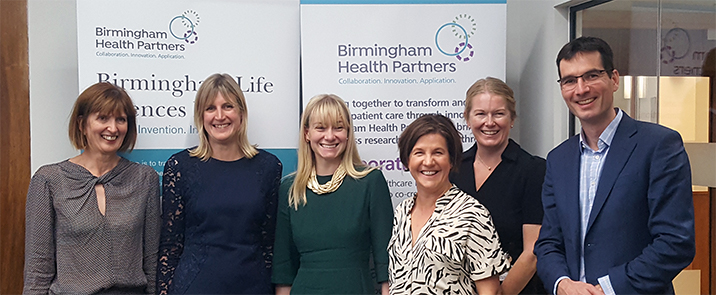 Baroness Blackwood, Parliamentary Under Secretary of State for Innovation at the Department of Health and Social Care, visited the University of Birmingham last week to meet researchers and discuss ambitious plans to develop a Birmingham Life Sciences Park.
Plans are underway to develop a £300 million Birmingham Life Sciences Park, transforming what is currently a derelict site into a leading hub for life sciences. Once completed, it is forecast to generate over £180 million GVA (gross value added) and 3,600 jobs over 10 years, with the potential to catalyse a further 10,000 jobs and £400 million GVA across the West Midlands.
During her visit to the University of Birmingham, Baroness Blackwood held discussions with Dr John Williams, Managing Director of Birmingham Health Partners, and clinical experts including:
Dr Elizabeth Sapey, Director of PIONEER – The Health Data Research Hub for Acute Care
Professor Alastair Denniston, Director of INSIGHT – The Health Data Research Hub for Eye Health
Professor Melanie Calvert, Director of the Centre for Patient Reported Outcomes Research at the University of Birmingham
Tim Jones, Executive Director for Innovation at University Hospitals Birmingham NHS Foundation Trust
Dr Kate Morris, Reader in Maternal Fetal Medicine at the University of Birmingham
Professor Pam Kearns, Director of the Cancer Research UK Clinical Trials Unit at the University of Birmingham
Birmingham Life Sciences Park will encourage closer collaboration between industry, clinicians and academics. Patients will benefit from early access to healthcare innovations, which will also generate commercial opportunities for UK businesses.
The project will be delivered by Birmingham Health Partners, a strategic alliance between the University of Birmingham and two co-located NHS Foundation Trusts: University Hospitals Birmingham and Birmingham Women's and Children's.