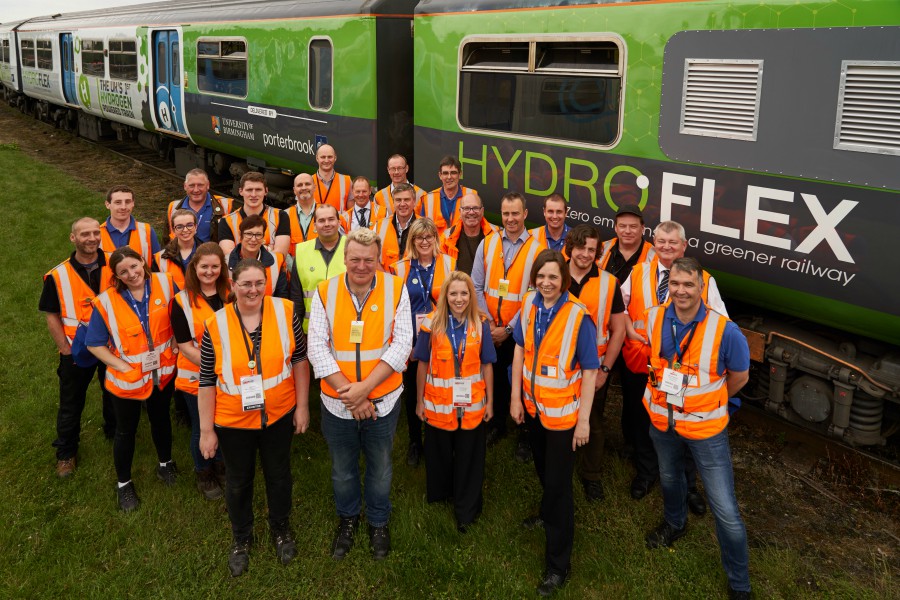 Porterbrook and the University of Birmingham's Centre for Railway Research and Education ('BCRRE') today announce that the UK's first hydrogen train, HydroFLEX, will be tested on the mainline railway following a successful proof-of-concept.
The mainline testing of HydroFLEX marks an important step in the development of a zero-carbon emission propulsion system that could help to decarbonise Britain's railway. The HydroFLEX pilot involves the fitment of a hydrogen powerpack to an existing Class 319 train, which would eventually allow it to run on conventional electrified routes as well as independently. This results in a highly flexible train that can operate on different parts of Britain's rail network
Mary Grant, CEO of Porterbrook, said: "Sustainability and innovation are integral to what we do here at Porterbrook, and so we are tremendously proud to have played a key role in designing and building the UK's first hydrogen train. This is a first test but we are excited about being in a position to provide HydroFLEX as a viable offering very soon. Britain's railway has a key part to play in reducing transport emissions and we are committed to helping our customers play an important role in delivering this."
Helen Simpson, Head of Innovation and Technical Services at Porterbrook, said: "The Porterbrook team are delighted to support the testing of HydroFLEX on mainline railways. We have been very pleased with how the train has performed on the test track and are looking forward to getting it out on the national rail network. Delivering the UK's first hydrogen train is a huge step for the rail industry and marks a milestone for green transport everywhere. Demonstrating how mainline approvals for hydrogen can be delivered is the next step forward and allows more people to see the benefits of hydrogen."
Alex Burrows, Director at Birmingham Centre for Railway Research and Education, commented: "This is a great success story for the UK Rail Industry, which shows our capability and commitment to helping the government meet decarbonisation targets. Key to this success is the close partnership between academia and industry which has enabled us to pool the expertise needed to rapidly progress this technology from concept to full-scale working demonstrator.
"This partnership between the University of Birmingham and Porterbrook has been a trailblazer for academia and industry accelerating ideas into practical application on the railway. We look forward to the next phase of this project which will take this technology onto the UK railway."
Dr Stuart Hillmansen, Senior Lecturer, Birmingham Centre for Railway Research and Education noted: "Our prototype shows how hydrogen powered technology can be incorporated within existing trains, without needing to modify the drivers' controls. It's an exciting advance because it shows how this technology could be adopted into the mainline system to deliver emission-free public transport."
Transport Secretary, Chris Grayling said: "It is fantastic to see government funding helping to drive this innovative project forward, as it progresses to the milestone of mainline testing.
"Our First of a Kind investment has consistently produced truly ambitious projects developed for the benefit of passengers and freight customers. We are absolutely committed to driving forward a greener, cleaner and more efficient rail network, using new technology to create modern, low-emission trains which can handle a growing number of journeys."
Many collaborators have been key to the success of HydroFLEX so far: Chrysalis Rail for installation, Denchi Group for traction batteries, Ballard Fuel Cell Systems for the fuel cell, Luxfer for hydrogen storage tanks, DG8 design support, Derby Engineering Unit for panels and brackets, SNC Lavalin for design and hazard identifications, Aura for exterior livery design and DB Cargo Crewe for the recommissioning of the unit.
The HydroFLEX project has recently been awarded funding from Innovate UK through its First Of A Kind competition to take the prototype forward towards mainline testing. The same funding competition has enabled for Porterbrook to pair up with Eminox to create a catalyst converter for diesel trains, extending the green credentials of the rail leasing company.
For further information please contact Beck Lockwood, Press Office, University of Birmingham, tel: 0121 414 2772
• The University of Birmingham is ranked amongst the world's top 100 institutions. Its work brings people from across the world to Birmingham, including researchers, teachers and more than 6,500 international students from over 150 countries.
• The Birmingham Centre for Railway Research and Education (BCRRE) at the University of Birmingham is the largest university-based centre for railway research and education in Europe, developing world-leading new technologies alongside renowned higher education programmes.
• Porterbrook Leasing Company Limited ("Porterbrook") is a leading participant in the rail leasing market and has a rolling stock fleet with over 4,000 vehicles on lease or on order, which includes c.4,200 passenger vehicles.
• Since privatisation, Porterbrook has invested over £3bn in the UK rail market. The company is looking to invest a further £1bn in Britain's railway over the next five years.
• Porterbrook has successfully introduced over 2,500 new vehicles into passenger service. The company continues to invest across its existing fleets to ensure they remain attractive to operators and passengers. Porterbrook also provides ongoing train maintenance services.
• In October 2014, the Porterbrook Group of companies was acquired by a consortium of investors including Alberta Investment Management Corporation ("AIMCo"), Allianz Capital Partners ("ACP") on behalf of certain insurance companies of the Allianz Group, EDF Invest and a consortium of Utilities Trust of Australia ("UTA"), The Infrastructure Fund ("TIF") and Royal Bank of Scotland Group Pension Fund ("RBS").