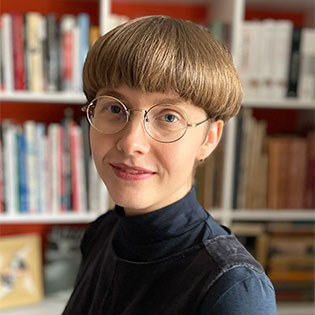 Dr Emma West has recently shared research from Revolutionary Red Tape at four events in Birmingham and London.
On 14 September Dr West was invited to take part in the 'Play and its Potential Publics' symposium at the Institute of Advanced Studies. Her talk, 'Policing Play: The Arts and/as Social Control in WWII' uses one of the key case studies from Revolutionary Red Tape—factory canteen concerts organised by the Ministry of Labour—to examine the fine line between state patronage of the arts and forms of social control. Read more about her research into ENSA and CEMA factory canteen concerts.
Two days later Dr West returned to Winterbourne House to deliver her talk '"Cubists and Tubists": The Golden Age of Poster Design'. Following a sold-out appearance earlier this year, Dr West was delighted to return and share her research into modern British posters with an enthusiastic audience. Read more about her research into Empire Marketing Board and General Post Office posters at her research blog.
Later that week, Dr West was invited to take part in a workshop on Feminist Peace at the London School of Economics. The Centre for Women, Peace and Security invited her to discuss her research into women and the peace movement in Wales, in partnership with the Wales for Peace project. Read more about Dr West's collaborative research in the University of Birmingham's Perspectives blog or at the Welsh Centre for International Affairs website.
And finally, on 28 October Dr West was invited to give one of the prestigious Monday lectures at the Birmingham and Midland Institute. Her talk, 'Art for the People', provided a lively illustrated introduction to her postdoctoral research. It focused particularly on the Arts League of Service, whose travelling theatre bought experimental art, theatre and ballet to rural audiences from Essex to Arran. Learn more about the ALS and its founder Eleanor Elder at Dr West's research blog.