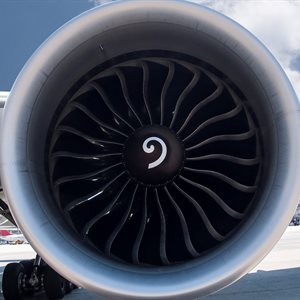 The Birmingham Energy Institute is delighted to announce that their Horizon 2020 project, FlexJET has won the KETBio award for the most innovative project in Europe.
The FlexJET project converts waste biomass into sustainable jet fuel through the process of bio-refining, a concept which is decarbonising the aviation industry. The project competed against over 300 EU projects and won this prestigious award following an expert screening by an external review panel who narrowed the 300 projects down to ten finalists. A public vote then determined which project would win first prize.
Speaking of the award Dr Miloud Ouadi, FlexJET project PI said: "It is an honour to be recognised as the most innovative biotech project in Europe. Our aim is to make FlexJET the benchmark for future sustainable aviation biofuel development. We want to commercialise this project so that Sustainable Aviation Fuel (SAF) can be produced at both large and decentralized scales economically whilst simultaneously addressing social and environmental needs."
Moving forwards, FlexJET will soon be completing construction on Europe's first pre-commercial demonstration plant for the production of advanced aviation biofuels, made exclusively from waste vegetable oil and organic solid waste biomass.
The project plant will produce 1,200 tonnes of sustainable aviation fuel per year, by recycling 3,500 tonnes of waste vegetable oil and additionally removing 3,500 tonnes of waste biomass that would have otherwise been incinerated or sent to a landfill. A subsequent scale-up commercial plant is planned to be constructed after the project completion and is expected to produce 25,000 tonnes of SAF per year.
FlexJET Partners: University of Birmingham, Fraunhofer UMSICHT, Hygear BV, Sterling Power Ltd, Green Fuels Ltd, SkyNRG BV, WRG Europe Ltd, University of Bologna, LEITAT, ETA Florence, University of Sheffield, Sormec
FlexJET (Sustainable Jet Fuel from Flexible Waste Biomass) has received funding from the European Union's Horizon 2020 research and innovation programme under grant agreement No 792216.