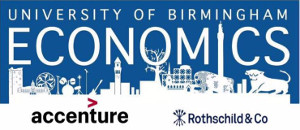 The University of Birmingham Economics Society (EconSoc) is now part of the EPS Community! We're officially a departmental student society over in the Business School and are now branching out to welcome new members from Engineering and Science subjects interested in learning more about the economics sector. We organise a range of activities to not only enhance your university experience but also to help you think about the life beyond Birmingham.
With the emergence of a dynamic global economy, jobs are harder to secure and we try our best to help boost the employability of our members. As a result, many of our events have a careers focus. We arrange presentations from top recruiters to increase your awareness of opportunities and also to give you an opportunity to network with some of the world's biggest employers. We also organise skills sessions to improve applications and interview style as well events designed to simulate what jobs are really like. We can't wait to see you at some of these!
This year we are continuing to build strong relationships with top employers that will help give our members an edge in this difficult graduate and internship market. We would also like to broaden our academic side and are continuing our distinguished speaker lecture series, where experts in their field come in to talk to students about their areas of interest and research.
Whilst EconSoc has a strong focus, we also have a 'work hard-play hard' attitude and therefore our socials and sports are equally important and will enable members to meet like-minded, ambitious individuals in a relaxed, enjoyable and informal environment. In previous years we've organised bar crawls, a trip abroad to Berlin and we host an annual Easter Ball, so this year promises to be even bigger and better in terms of social events. We're also working hard to adapt to this very strange environment and hold virtual events so everyone can join in.
If you have any questions or want to find out more drop us an email on econsoc@guild.bham.ac.uk we will get back to you! You can also follow us on Twitter with @bhameconsoc and Instagram @bhameconsoc, or join us on Facebook and LinkedIn.
To find out more about the Economics Society visit their website www.birmingham.ac.uk/eps/econsoc.
There are 42 student groups in the College of Engineering and Physical Sciences. To learn more about their projects and activities head to www.birmingham.ac.uk/eps-societies.