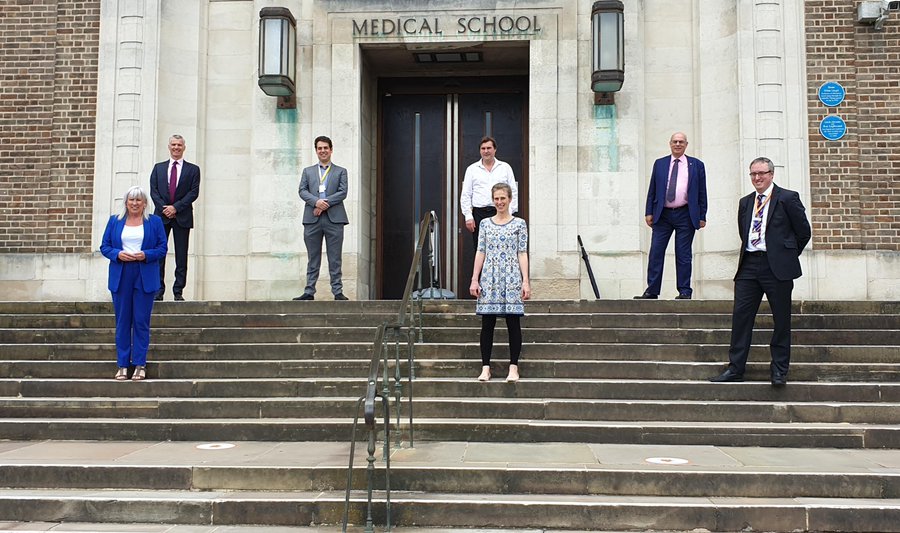 Amanda Solloway MP, the Minister for Science, Research and Innovation recently visited the University of Birmingham to mark the launch of the Government's R&D roadmap and find out more about Birmingham's COVID-19 research.
The Minister met Professor Andrew Beggs, Dr Alex Richter, and Professor Nick Loman to learn about their work in COVID-19 testing, antibody testing, and genomic sequencing – the University of Birmingham being the only place in the country which is home to this powerful combination.
The Vice-Chancellor, Provost and Minister also discussed science infrastructure investment and the important role of life sciences and healthcare innovation in the West Midlands recovery plan as set out by the Mayor last week.
Part of the plan is a proposed West Midlands 'Speed to Scale Region' Programme, delivered by a partnership consisting of the University of Birmingham, the Manufacturing Technology Centre (MTC), University of Warwick and WMG, to harness innovation and create 22,000 jobs and £2.4bn GVA.
Reflecting on the visit, Amanda Solloway MP, Parliamentary Under Secretary of State at the Department for Business, Energy and Industrial Strategy said:
"What I saw at the University of Birmingham has given me renewed hope that the UK is and will remain a science superpower, now and far into the future. The incredible breakthroughs and remarkable Covid-19 research being undertaken by these brilliant researchers proves our future is in safe hands. It is this energy and drive that will support our ambitions in the R&D Roadmap and I'm excited to work alongside Birmingham, and other great towns and cities across the UK, to build a more research and development intensive nation."
University of Birmingham Vice-Chancellor, Professor Sir David Eastwood said:
"We were delighted to welcome the Minister to campus. Working closely with our NHS colleagues, the University has established itself as a hub for crucial COVID-19 research that has global impact and as the Mayor set out last week, the University, with partners, is set to play a central part in the region's COVID-19 economic recovery plan."