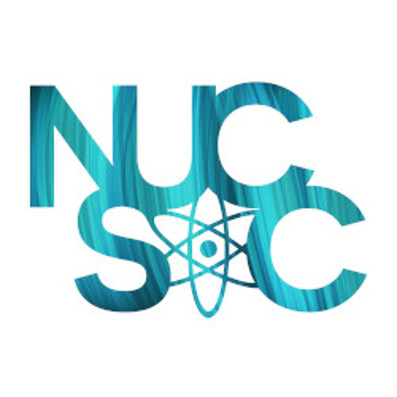 It may have been cut short but that doesn't mean that this term has been any quieter for NucSoc! The social calendar has been as full as ever, starting as always with NucSoc vs BUMS. It might have been difficult to guess the theme (farms and farmers) from some of the costumes but as always, a great time was had by everyone who joined us on the night out.
Of course, we can't wear fancy dress all the time – fortunately this year the original and best NucSoc hoodies are back by popular demand. They were back just in time to see a few at our Master's Talks, for which we must thank our speakers Rob Heymer, Lewis Jackson and Emlyn Hauber for giving up their time to give presentations on their fourth year module choices and helping the newer members of NucSoc with their plans for the future. It's always good to see members of our society helping each other out, whether it's with advice or support, especially right now.
We have of course been maintaining our academic side this year with a trip to the Culham Centre for Fusion Energy. The trip involved a tour of the facility and a chance to get a closer look at the home of fusion research in the UK, somewhere I'm sure we will find NucSoc alumni in the future.
There was also success in sport this year with our football team beating many larger societies to come 3rd in the EPS Trophy! Maybe it's time to convert our success into the campus league? That success was appropriately celebrated later that day with our pub golf (which I'm pleased to say was not a fancy-dress event).
We are always trying to run events in collaboration with other societies – this term it was a jointly hosted casino night with MechSoc where punters played blackjack, roulette and poker with the most successful (and luckiest) being awarded prizes at the end.
My personal favourite event of the year was as always the Materials Ball. It was great to see so many people once again at what turned out to be one of our last events of the year. One of the reasons the Ball is such a highlight of the calendar is the range of people, from first years, to alumni and members of staff – all kinds of NucSoc members and friends are there to swap stories and enjoy themselves.
This term has come to a strange and possibly difficult end for many people but I've been privileged enough this year to see how supportive all of our societies can be and I'm sure that we have another great year to look forward to.
To find out more about NucSoc visit their website www.birmingham.ac.uk/eps/nucsoc.
There are 39 student groups in the College of Engineering and Physical Sciences. To learn more about their projects and activities head to www.birmingham.ac.uk/eps-societies.