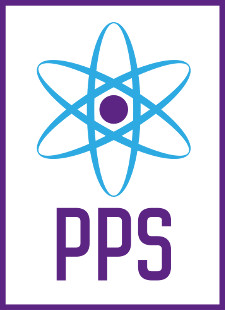 This has been the strangest term ever for PPS but that certainly has not stopped us from having a great term. We have adapted to a lot of changes and moved our Society online to keep our members connected when it's been needed the most. We've had a full calendar with 10 events in 12 weeks, so moving virtual has not stopped us!
This year we are incredibly lucky to have been generously sponsored by TPP and the Institute of Physics, so I would like to say a big thank you to them and to the School of Physics and Astronomy. A special mention should go to our Head of School, Mike Gunn and Alumni Relations Manager, Grace Surman for their ongoing support of the Society; we would not be able to do what we do without them.
We kicked off the year by growing our Family Scheme, which has enabled new students to have a friendly face for support and allowed PPS to connect with every first year joining the School of Physics and Astronomy. We may have been unable to run our annual Higgs Booze-On, which is usually our biggest social of the year, but we did hold a series of online socials to connect the physics community here at the University, wherever they are in the world. From a casual chat to games nights, scavenger hunts and quizzes; all of these have been a brilliant chance for students, both new and returning, to make some new friends.
We've also continued out collaboration with the Institute of Physics to learn more about how the IOP can support students, and the bingo night that accompanied this was well attended and enjoyed by all.
As well as socials, we have continued PPS Science on Tap where we learned about the research taking place in the Theory Group. This had our best postgraduate attendance yet and was the basis of some really interesting discussions between undergraduates and postgraduates. We would like to thank the Grand Unified Theory Society for collaborating with us on this. We've also held a series of talks from a variety of industries for our careers event, all online and available to refer to when making career decisions.
As well as the connections we have developed in Birmingham, myself and Vice President Ilinca Butu attended the Institute of Physics FUSE Conference. I delivered a presentation about our society and successes, which has enabled us to network with physics-based student groups all over the UK.
Alongside moving our events online, we have looked at other ways we can keep our members connected. Our Discord server has been a huge success! In light of the challenges and concerns students have faced due to the pandemic, we worked with the Institute of Physics to develop a wellbeing page full of resources for students, landing us a mention on the University's Nightline Instagram. Nightline is an anonymous and non-judgmental listening service for uni students, you can find out more about how they can help you at https://birminghamnightline.weebly.com/.
In spite of everything this year has thrown at us, it has been a really great term for PPS and there is plenty to look forward to next year. We'll see another Science on Tap, our internship events, and some more socials, and there may even be an exciting announcement to look forward to as well!
A massive thank you to everyone who has supported us and got involved this term, our events would not be the same without you. I look forward to seeing you all in the New Year!
Happy Holidays!
Lucy Millins
President of Poynting Physical Society
To find out more about the Poynting Physics Society, visit their website www.birmingham.ac.uk/eps/pps.
There are 42 student groups associated with the College of Engineering and Physical Sciences. To learn more about their projects and activities head to www.birmingham.ac.uk/eps-societies.