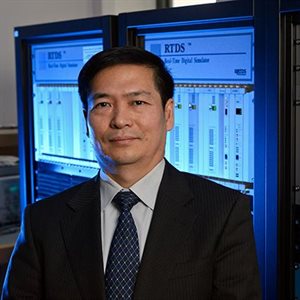 The Birmingham Energy Institute would like to congratulate Professor Xiao-Ping Zhang on his recent appointment to the Expert Advisory Group of UK Government's Offshore Transmission Network Review.
Launched by Energy Minister Kwasi Kwarteng, this review will support the Government's commitment to ensure offshore wind energy generation will produce more than enough electricity to power every home in the country by 2030.
Speaking of the recent appointment, Professor Zhang, Chair in Electrical Power Systems, Director of Smart Grid research at the Birmingham Energy Institute said: "It's my great honour to be selected to join the Energy Advisory Group of UK Government's Offshore Transmission Network Review to represent the UK's academic community. This is an exciting opportunity to engage with the UK's power and energy communities on a national scale and bring in broader expertise to support the review. I also look forward to engaging with the power and energy community across the University of Birmingham campus and will be receiving inputs from our energy experts to feed in to the national strategy."
The review will ensure the transmission connections for offshore wind generation are delivered in the most appropriate way. There will be a particular focus on identifying tactical near-term actions that can be taken and early opportunities for coordination for projects in the short- to medium-term, plus a longer-term strategic review to develop a new regime that can ensure a more coordinated approach for the future.
The work of this Expert Advisory Group will also support the government's recent Ten Point Plan for a Green Industrial Revolution, for which the capacity of offshore wind is expected to quadruple to 40GW. It is expected that the advancement of offshore wind could support up to 60,000 jobs and around £20bn of private investment by 2030.