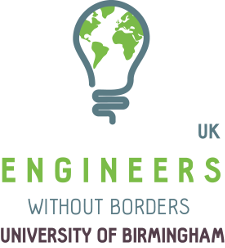 We would like to welcome back existing EWB members and welcome new members to Engineers Without Borders University of Birmingham.
For those who don't know about us, we are the University of Birmingham chapter for Engineers Without Borders UK. EWB-UK is a national charity aiming to improve the living standards of everyone everywhere through science, technology, engineering and maths (STEM). We work with local schools and run hands-on workshops focusing on access to electricity and water, and teach school pupils of the important and power of engineering.
We also host talks with guest speakers on STEM-related topics to help inspire our members. Furthermore, we run events such as the Designathon where you're challenged to create a solution to a real-life problem. In this one-day event you'll be a part of a multidisciplinary team tasked to design, prototype and present a solution to a brief based on real engineering challenges.
We are saddened that we cannot run our Welcome events in our usual manner but we're looking to still run them virtually with opportunities for anyone who has any questions about what we do and learn about our plans for the year ahead.
EWB Q&A Session: Wednesday 23 September, 3.30 to 4pm (expected to be Facebook and/or Instagram Live)
EWB Welcome Session: Thursday 24 September, 2 to 3pm (expected to be Zoom or Teams if available)
These take the place of our planned physical event – we feel that due to the current social restrictions, and to allow the most people to engage this event, is now better held virtually. We will provide links to join the event on our website and social media once that is finalised – keep your eyes open!
We're also working with schools to carry on our outreach efforts as soon as we're able to, and register as many EWB members as possible as STEM Ambassadors so that you can get involved in lots of outreach events.
To keep updated on our events, you can:
Find us on https://www.guildofstudents.com/organisation/ewb/
Or our website: https://www.ewbuob.uk/
Or follow us on social media:
Facebook: https://www.facebook.com/EWBBirmingham
Twitter: https://twitter.com/EWBUoB
Instagram: https://www.instagram.com/EWBUoB/
We can't wait to virtually meet you!
To find out more about EWB visit their website www.birmingham.ac.uk/eps/ewb.
There are 42 student groups in the College of Engineering and Physical Sciences. To learn more about their projects and activities head to www.birmingham.ac.uk/eps-societies.