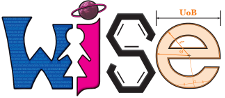 What a year it's been! WISE has had its busiest year to date, with over 23 events ranging from volunteering and networking to panel discussions and chances to socialise, all in the midst of a pandemic.
The year 2021 started with the highly transmissible alpha variant, rising COVID-19 cases and another national lockdown. However, WISE was back to its non-stop virtual calendar. Alex Webb, 2020-21 Placement Officer, kickstarted the year with a panel event where students considering a placement year could learn about current students' experiences and tips for applying. Shortly following this, several WISE members took part in the EPS Running Festival arranged by ChemSoc and collectively helped to raise over £7,827 for the mental health charity Mind.
WISE continued to run events to promote diversity and inclusivity in STEM. This includes 'BAME and Allies in STEM' in collaboration with PPS, as well as the second annual 'Equal in STEM' conference ran with BEaMS, oSTEM and the 93% Club. This week-long conference brought together over 100 students, professionals and academics to discuss prevalent barriers in STEM and how they could be overcome. This year's conference highlighted new issues brought by COVID-19 and their unproportionate impact on minorities in STEM.
WISE also threw ourselves into celebrating International Women's Day and aided in the creation and promotion of the EPS 'Meet Your Alumni' series – a series of events bringing alumni and the EPS student societies together to share experiences and advice. We also ran a diverse array of individual events which include: a resilience and confidence workshop, a series of inspirational interviews featuring past WISE alumni, and a university-wide #ChooseToChallenge social media campaign. People across the University of Birmingham came together to pledge their commitment to calling out inequality and to help forge more inclusive environments.
Throughout the third national lockdown, continual virtual learning and long periods of isolation, WISE's social media has been instrumental in keeping the connection with our members and providing support throughout the year. As well as promoting the many events and opportunities we provide to members, our virtual presence has allowed us to host online socials. Most notably this includes the popular yoga morning in collaboration with the University of Birmingham Yoga Society, as well as running a series of competitions including photography and bake-offs.
With the national closure of schools at the start of the year, WISE embraced virtual outreach and provided online resources to continue our 'Girls in STEM' scheme. WISE recorded a mini-lecture series where members gave presentations on aspects of science, ranging from astronomy to microbiology, which introduced students to new areas of science and interesting recent developments. Additionally, WISE created 'Experiment at Home' virtual work booklets which guided school pupils through practical experiments using items around the house. The feedback was overwhelming, with many parents sending their thanks via WISE's social media pages with selfies of their children getting stuck in with the experiments. Several of these virtual resources were uploaded to the newly created College of EPS webpage which is accessible to secondary schools all over the country. The collaboration allowed WISE to launch our 'Diversity in STEM' profiles which acted to provide visible role models in a year where students were unable to meet new people. WISE also collaborated with the University Developer Student Club to create Python Basics 101 workshops, which saw over 40 people attending the first session.
As well as continuing to engage school students, it was important to us that our members were still able to gain virtual outreach and communication skills. To achieve this, WISE worked with SATNAV and science communicator Jon Wood to provide an interactive 'Communicating Science' workshop for our members. We would like to thank our sponsors – the Alumni Impact Fund and the Biochemical Society – for their understanding of the challenges faced this year. Their grants will go towards outreach activities when it is safe for physical sessions to resume, as well as the highly anticipated new coding club!
On a personal note, being a part of WISE has truly been one of the highlights of my time at the University of Birmingham. Over my three years in the society I have gotten the opportunity to be part of incredible and meaningful events, working alongside many inspiring women. I look forward to following WISE over the next few years and hearing about their continual fantastic efforts.
With this note, I am pleased to hand over to the newly elected WISE committee of 2021-22 and wish them all the best for the upcoming year.
Chair: Alex Webb
Vice-Chair: Dorottya Tényi
Secretary: Alisha Dordi
Treasurer: Freya Harris
Publicity Officer: Molly Magarotto
Outreach Officers: Weronika Wiesiołek, Roisin Bell and Amber Stiby
I can't wait to see what next year brings,
Sarah Lloyd
WISE Secretary 2020-21
To find out more about WISE visit their society website.
There are 41 student groups in the College of Engineering and Physical Sciences. To learn more about their projects and activities head to the EPS Societies homepage.