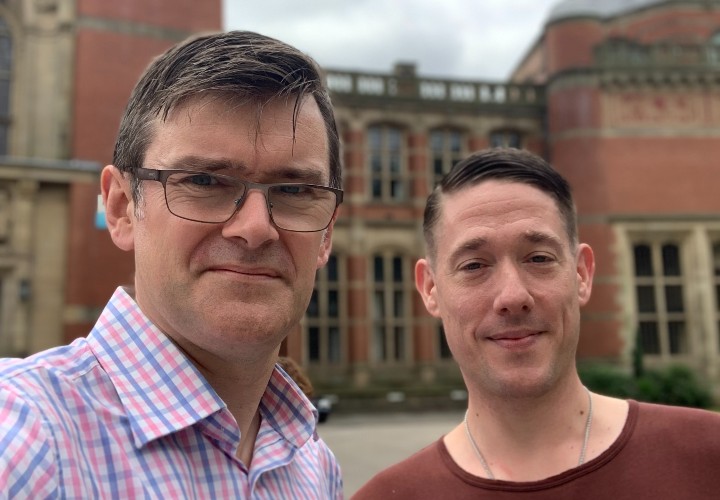 A pilot programme designed to work with students in recovery from addiction to alcohol, drugs, gambling or other behavioural addiction could provide a template approach to supporting student recovery nationwide.
Launched at the University of Birmingham, the programme will work with young adult students to support their recovery while surrounded by the social demands of a typical university.
More than 300,000 people seek help for some form of addiction in the UK each year. There is concern that addiction among students is increasing, despite a decrease in the number of young people seeking help from specialist treatment services.
The new programme is based on a model which has been highly successful in the USA. It offers peer-led support, with students using drop-in services, taking part in peer support meetings, creating abstinent social activities, and developing opportunities for volunteering and service to the local community.
Leading the programme is Dr Ed Day, an expert in addiction psychiatry at the University of Birmingham and the UK Government's Drug Recovery Champion.
"Despite huge progress in the provision of mental health support for students, addiction remains an unrecognised and stigmatised problem. There is an overwhelming lack of peer support for abstinence in student environments," says Dr Day. "Traditional 12-step recovery programmes work well for adults in middle-age, but young adults have a difficult time finding a social niche that is both free of temptation but also supportive and understanding."
"The goal of this programme is to develop a fellowship of abstinent friends – a recovery community which will flourish and grow on the campus over time, providing a model that can be emulated at other universities. We want to support students in recovery to get the most out of their university education and also to remove some of the barriers that prevent these students from accessing university education in the first place. Support will also be offered to their families, providing reassurance that their loved one's recovery will continue even whilst they are way from home at university."
"Students in abstinent recovery are a massive asset to the University. Research from the USA shows that compared to the 'average' student they are more likely to complete their course, gain better scores and volunteer or give back to the student community in other ways."
At the outset, the programme will include five key elements:
Recovery Support – An on-campus space for support group meetings, providing students with a peer group that can also provide insulation from pressure to take part in drinking, substance use or other problematic behaviours
Educational support – Advice and assistance to help students navigate their way through university application, admission and on-going learning.
Peer support – a series of seminars aimed at relapse prevention, building a social support network, and a range of health and wellbeing issues.
Family support – Education and support to help recovering students live outside of their family supervision.
Community support – social activities that are alcohol and substance free, and designed to support recovery, along with volunteering projects aimed at helping the local community.
The programme will start with the new academic year in September 2021 and will be led by Program Manager Luke Trainor, based in the University's Institute for Mental Health. Luke says: "Recognising that there are students out there who are recovering from addiction and striving for a happy, full and productive life needs to be a priority for the higher education sector in the UK.
"As a student in recovery myself, I know that life on campus can be testing and isolating for people in recovery and this initiative will go a long way towards remedying this. It is a testament to the University of Birmingham's commitment to inclusivity and comprehensive welfare that they are behind this project, the hope is that universities throughout the UK will recognise the need and join us."
For media enquiries please contact Beck Lockwood, Press Office, University of Birmingham, tel: +44 (0)781 3343348.
The University of Birmingham is ranked amongst the world's top 100 institutions. Its work brings people from across the world to Birmingham, including researchers, teachers and more than 6,500 international students from over 150 countries.