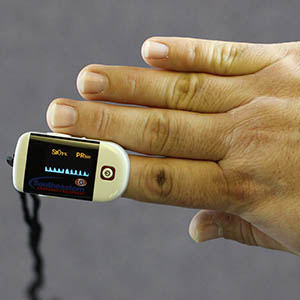 The use of home monitoring technology has proved vital in helping the NHS cope with the high demand on emergency services and hospital beds as patients can monitor their own oxygen levels at home and be part of a 'virtual ward' where healthcare staff can provide ongoing support to patients to prevent the escalation of their condition.
Covid: How a £20 gadget could save lives - BBC News
Researchers from the NIHR-funded BRACE Rapid Evaluation Centre have worked with colleagues at RSET Rapid Service Evaluation Team, Public Health England and NHS England & NHS Improvement to conduct a rapid evaluation of the national NHS remote home monitoring model for COVID-19 patients called COVID Oximetry @ home. Phase 1 of the evaluation which ran between July-September included an empirical study of eight NHS sites which implemented a range of COVID Oximetry @ home models set up during the first wave of the pandemic. The findings were reported to the UK government's National Incident Response Board (NIRB) for development and implementation of COVID Oximetry @ home across the country to prepare for second wave of the pandemic in the winter months. The Phase 1 evaluation findings have supported NHS England and NHS Improvement Patient Safety Improvement Programme to develop guidance for NHS staff to deliver the service while a synthesis of the main lessons learnt have been presented to over 500 NHS colleagues planning and developing virtual wards across England.
An additional sub-study has recently began to investigate the experiences of staff implementing and delivering pulse oximetry with remote monitoring to care home residents throughout the COVID-19 pandemic in England.
For further information please contact Dr Manni Sidhu m.s.sidhu@bham.ac.uk and visit the project pages on the BRACE Website