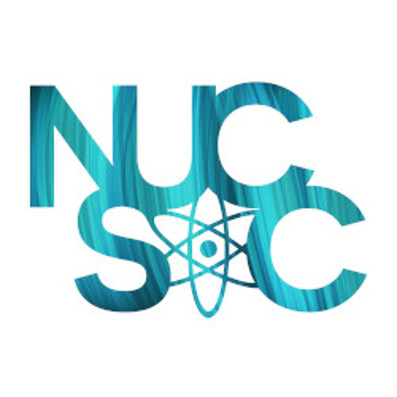 NucSoc is the society for nuclear engineers at the University of Birmingham. We include members of both the BSc and MEng in Nuclear Engineering, as well as those on the postgraduate Physics and Technology of Nuclear Reactors (PTNR) and Nuclear Decommissioning and Waste Management (NDAWM) courses. We pride ourselves on being an inclusive society that engage in both careers events as well as amazing social events.
NucSoc has made big changes this semester! We have a new logo designed by a friend of mine studying Graphic Design, plus a new committee position of Wellbeing Representative, currently held by our Vice-President Karim Bakkar. We wanted to introduce this position to help anyone who feels the need to reach out to a fellow student about any worries whilst at university, or support getting in contact with the School's Wellbeing Team.
We started the semester off strong with a talk from two of our own PTNR students Benjamin Crump and Ben Tomlinson on the construction of Nuclear Submarines in the UK. We then returned to the legendary NucSoc vs BUMS social, but with a twist: for the first time ever AeroSoc were invited so we've renamed the event to NucSoc vs BUMS vs Aero. It was a truly incredible chance to see so many new faces from the first and second years who, thanks to COVID-19, have not had the opportunity to socialize together in this way. This never-before-seen collaboration between the School's three societies was followed up with a Christmas meal, where interacting between the Metallurgy and Materials societies was further encouraged.
Looking to the future, NucSoc is hoping to introduce its own football team to the University's 6-a-side Campus League, as well as more careers events and talks from nuclear professionals. We are extremely happy that since we've been allowed to socialise again the rivalry between the three societies has dissipated (mostly!), and instead there is a theme of us all working together.
A very Merry Christmas from myself and the committee!
Adam Jackson
NucSoc President
To find out more about NucSoc visit their society website.
There are 41 student groups in the College of Engineering and Physical Sciences. To learn more about their projects and activities head to the EPS Societies homepage.