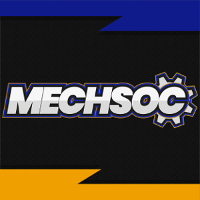 Whilst this semester hasn't been quite as busy as the last for MechSoc, we've still been up to plenty, especially behind the scenes!
Our first event after the Christmas break and exams was a careers event with an exciting start up – HausBots. This company builds innovative wall climbing robots that can be used for all sorts of building inspection and repair work. Jack and his colleagues explained the secret behind their patent-pending wall-climbing ability, alongside giving students a real insight into what life is like at a Birmingham-based start-up. Since the event, the company got back in contact to make sure we were the first to advertise their new roles as the company expands!
Our biggest careers event of the year was our alumni speed-networking, ran as part of the EPS Community 'Meet Your Alumni' series and as a celebration for International Women's day. This allowed our members to have small-group conversations with five alumni guests who identified as women! Our speakers gave a great insight into their varied careers, discussing the need to find a career you genuinely enjoy and the things they have learned since graduating from the University of Birmingham.
Since then, the majority of the committee's time was spent leading the organisation of the Engineering Ball, our flagship event including a black-tie drinks reception and three course sit-down meal. Our black and gold theme attracted over 260 ticket sales from engineers in all years and disciplines. Unfortunately the ongoing pandemic put a last-minute stop to our plans but we hope next year to invite back all those alumni who missed out both this year and last!
We are now handing over this re-energised and re-branded MechSoc that we have created this year to a new committee, as we graduate or leave for placement years – we can't wait to see what they do with the society!
See you at the ball next year!
Emma
MechSoc Secretary
To find out more about MechSoc visit their society website.
There are 41 student groups in the College of Engineering and Physical Sciences. To learn more about their projects and activities head to the EPS Societies homepage.