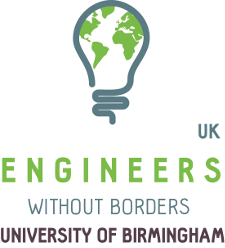 Since the start of this academic year, societies have had to adapt to overcome obstacles that we couldn't have imagined a year ago, of which the Birmingham Chapter of Engineers Without Borders UK is no different.
Despite the setbacks and difficulties, we pushed through to offer as many online outreach opportunities and events as possible during this semester. The event that stands out the most from this term is the Designathon. This is usually a design competition we organise in the University each year which takes place over the course of a day. This year, we collaborated with every other Engineers Without Borders UK Chapter to hold a national design competition which lasted a month. Our major role in this was facilitating the judging part of the process by putting together teams of judges, organising judging calls and contacting contestants. Other chapters took charge in other aspects, such as organising the opening event and the final. This amount of collaboration between different university chapters is definitely something we want to keep up for the next academic year!
Much like with the Designathon, the nature of our online-only events this year provided us with the unique opportunity to make our resources even more accessible than they have been before. Another example of this would be our 'Studying STEM' resource. Our members have had the opportunity to record a 'Studying STEM' video where they discussed their experiences of studying STEM at university, which we then shared with sixth form students at our local schools. We were able to create a fantastic online resource that will remain available for a long time to come!
You can check out our outreach resources on our website and please feel free to make use of them yourselves!
In March, we were able to invite our guest speaker Lucy Rew from France to speak on her experiences in the field of civil engineering, working with tunnels and how the parts of a single project can go beyond the project itself. It was amazing to have someone speak with us about engineering from so far away!
Over the semester, we have also hosted some fun and informal games nights and an exciting online paper design challenge!
Although we've had fun this term, next year we're hoping to get back to in-person events and we look forward to seeing you all there!
Best wishes,
Klara Andersson
Vice President (Events) of the Birmingham Chapter of Engineers Without Borders UK
To find out more about EWB visit their society website.
There are 41 student groups in the College of Engineering and Physical Sciences. To learn more about their projects and activities head to the EPS Societies homepage.