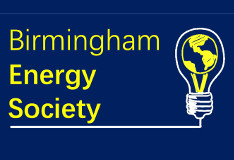 The Birmingham Energy Society (BES) offers students of any course the opportunity to explore and learn about a wide range of areas within the energy sector.
Our areas have recently included environmental law, decarbonisation, as well as the disamenity impact of solar panels. We accommodate this through regular talks from external and internal speakers that we feel our members would find most interesting, in conjunction with exciting trips! We also offer the chance for students to build their network within the energy industry through specialised networking events.
Although this past year has been very difficult; for us as a society to continue growing our impact, we have adapted by offering insightful talks and trips in the new year.
We began the academic year with an interactive talk with Professor Martin Freer, Director of the Birmingham Energy Institute. The event covered key aspects of decarbonisation and a holistic overview of the challenges facing the UK for it to reach net-zero emissions by 2050. The talk was very engaging and gave prospective members of BES a broad overview of the importance of sustainability initiatives and the acceleration required for the UK to reach its target.
Our second talk of the semester covered the sector of environmental law and the process of approving green energy projects, delivered by Dr Lovleen Bhullar of the Birmingham Law School. This presentation offered a fascinating understanding of the legal perspective behind approving energy initiatives.
Professor David Maddison, Director of the Birmingham Centre for Environmental and Energy Economics Management, hosted our final talk for the semester. This presentation showed the disamenity impact of solar panels, and how these have far-reaching consequences for long-term sustainability.
We are excited to move forward next semester with our larger committee to plan a great set of energy talks on a broad range of topics.
Thank you to all our members who attended our events and helped make our term so successful. We look forward to hosting more events next term!
Joshua Hill, Secretary and The BES Committee
To find out more about Birmingham Energy Society visit their society website.

There are 41 student groups associated with the College of Engineering and Physical Sciences. To learn more about their projects and activities head to the EPS Societies homepage.