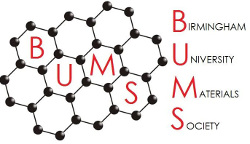 As we approach the end of the academic year, now is a great time to reflect on what has been another great year for BUMS, despite the extremely odd circumstances it occurred under.
Way back in the summer of 2020, BUMS kicked things off with the annual roll out of our family scheme, where current students were invited to act as mentors to help guide the new arriving students through their first year at university.
The first new addition to the BUMS calendar this year was the introduction of the BUMS Bake off! Over the course of the summer, BUMS members battled it out in the culinary arena where every fortnight the bakers were set a new challenge to bake something amazing. We had some stunning submissions including a replica of the Metallurgy and Materials building made entirely out of biscuits and confectionary and even a baker's rendition of our very own Dr Martin Strangwood!
The start of the academic year also marked the return of the ever-popular meme of the month competition which generated some hilarious submissions all year around. The new intake of First Year's were welcomed in late September by BUMS, where the family scheme was officially kick started with an introductory talk and meet-and-greet between 'kids' and 'parents' along with a guided tour of the School of Metallurgy and Materials. This was followed by a family games and chat night over Zoom, which was enjoyed by all in attendance and allowed new friendships to be forged across year groups! New to this year, the family scheme was also expanded to postgraduate students, where PhD students acted as 'parents' to new Master's students. This was very well received and proved very useful over the course of the academic year and is now looking to be a permanent addition to the BUMS family scheme!
BUMSport also began our campaign for sporting dominance in campus league with both the netball and football teams entering again this year, producing some strong early season results!
In October, BUMS also took part in the Virtual EPS Societies Fair, hosting a Q&A panel where we had some great interactions with students curious about what BUMS has to offer.
There were also new competitions and events galore as we approached the end of 'Spooktober', with the BUMS Pumpkin carving contest and Halloween fancy dress quiz proving to be great hits! The fancy dress quiz saw all manner of attendees, including a Pharoah, a wizard, Mona the vampire, Batman (all in attendance agreed this person looked like a rabbit) and many more.
November brought with it the return of the 'Materials Mos', where some intrepid BUMS members braved the shave for a month of dubious facial hair growing, all in the name of charity. In addition, we also had some members (who didn't fancy growing a dodgy moustache) running or walking for Movember as well! This was a fantastic success with BUMS raising over £1000 for charity, smashing last year's total by £200! During this time BUMS was also invited along to a pair of MechSoc careers events in conjunction with Siemens and Nestle which were well received.
Approaching the end of semester one, the first virtual careers event of the year was hosted by BUMS in the form of 'BUMS does Speed Networking' with some of the fantastic alumni. The semester was then rounded off with a battle of wits across the whole of the School of Metallurgy and Materials with the 'Staff vs Students Holiday Quiz'!
Semester two brought with it another lockdown but we as a society were not deterred! Before the lockdown was brought into effect, personalised BUMSport gear was put on sale featuring the now iconic BUMSport shirt. Both the football and netball team (where possible) continued to battle it out in campus league, with a continuously high engagement in training and games alike!
One of the biggest additions this term brought with it was the introduction of a new 'BUMS Strava' which set the task of getting BUMS fit over lockdown. A number of challenges were arranged across the course of three weeks in February and March, with shopping vouchers awarded to the winners! This was yet another huge success for us, with a total of 2.6 million metres being covered over the course of the competition – some participants even used their routes to draw giant pictures and take some scenic shots of campus!
After the roaring success of 'BUMS does Speed Networking' in semester one, another similar virtual event was hosted in March as part of the 'Meet Your Alumni' series. This brought together some of our outstanding alumni from companies and organisations such as Rolls Royce and the European Space Agency. This was again a great success and helped strengthen BUMS relationships with industry!
With the meme of the month competition still going strong and the end of the academic year fast approaching, we hosted our Annual General Meeting online to elect the next budding BUMS committee members. The AGM had a great turnout with almost 100 voters and some especially fierce competition for the presidential position! We cannot wait to induct our new committee officially and let them loose for what promises to be another exciting year for BUMS!
But for now, we are proud to introduce the new BUMS 2021-22 committee:
President – Alexander Dhesi
Careers Rep – Amy Smith
Equality, Diversity and Inclusion Rep – Louis Cooper
Sports Rep – James Griffiths
Social Media Rep – Joseph Gresle Farthing
There are still a number of positions left to fill, so keep an eye out for the next round of applications and the following EGM!
The last thing for us to mention is that once again BUMS has received a bundle of nominations for the prestigious EPS Societies' Awards taking place on Thursday 22 July. Multiple individuals from within BUMS were nominated for a variety of awards including 'Sports Personality of the Year', 'Outstanding Event' and 'Inspirational Committee Member'.
BUMS has also been shortlisted for the coveted 'Society of the Year' award, so we have our fingers firmly crossed for all of our nominees and we are hoping for a massive awards haul!
Overall, this year has been difficult, testing and completely unprecedented, but BUMS has come out of the other side of it more resilient and determined than ever and we are extremely proud of all that we have managed to achieve.
So this is us signing off, it has been a true privilege and we wish the new committee all the best for next year!
Thank you to everyone involved with BUMS this year,
BUMS Committee 2020-21
To find out more about the Materials Society visit their society website.
There are 41 student groups in the College of Engineering and Physical Sciences. To learn more about their projects and activities head to the EPS Societies homepage.