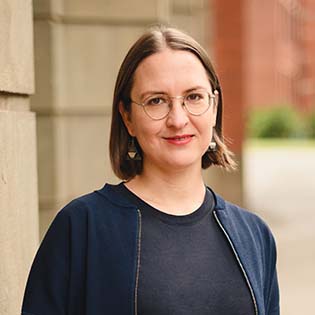 Dr Maria Witek of the Department of Music has been awarded an AHRC development and engagement fellowship for her project entitled 'Embodied timing and disability in DJ practice', running from February 2022 to July 2023.
DJing is a sophisticated musical skill that requires a musician to perceive and manipulate multiple, continuously changing rhythmic patterns at the same time. The synchronisation of two or more recorded tracks playing simultaneously is an embodied activity involving the coordination of processes occurring in the body, the brain, the turntables and the sonic patterns in the music. However, we do not yet know how these processes interact to make this skill possible. Furthermore, the exclusion of disabled musicians from academic research means that we know little about musical embodiment in the context of disability.
This project applies methods from across music cognition, cognitive neuroscience, philosophy of mind, dance music studies and disability studies to study the interaction of temporal processes in the brain, body and musical instruments of both disabled and non-disabled DJs. Based on a theoretical foundation in embodied models of mind, the research will involve measuring neural processes in the brain, movements in the body and timing information from the music and the turntables during DJing, as well as collecting qualitative interview data from disabled DJs, using participatory research methods. The research will culminate in a workshop where the project researchers and participants will work with Drake Music, the UK's leading charity focusing on disability, music and technology, and Native Instruments, a world-leading developer of DJ instruments, to translate the research to advance more accessible DJ tools and environments. In this way, the project will contribute to making steps towards a more inclusive dance music culture.