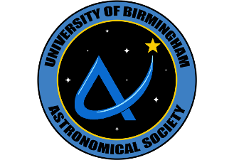 Hello First Years!
Welcome to the University of Birmingham! I'm Anwesha, the Chair for our University's Astronomical Society, lovingly known as AstroSoc. We are the oldest Guild society and are passionate about everything Astronomy – from stargazing sessions with hot tea and biscuits to scientific talks targeted to all members of our community, to astronomy-themed bar crawls!
We will kick-start the year with a range of activities for the international celebrations of World Space Week as we celebrate Women in Space. This will be a great opportunity to meet other freshers, get some insightful careers advice from experts in physics, space science and astronomy, get to know more about AstroSoc, watch some stars and take a breather from all the stresses of being a fresher! We are collaborating with a number of societies across the university so you can also expect an extravaganza of science and fun! Keep an eye on our social media channels for updates. We highly encourage you to join our society – this will allow you to receive email updates from us.
You can follow us on Facebook, Instagram (@uobastrosoc), Twitter (@UoBAstroSoc) and LinkedIn.
You can join AstroSoc on the Guild of Students website, this would allow you to join the mailing list and get discounts on paid events (you must be logged in using your university credentials).
Do check out our YouTube channel as well to get an idea of all the things we have been up to over the last year. We reached out to hundreds of people all over the world as we strived to bridge the scientific outreach gap, through our YouTube channel.
Over the year, we will also conduct our well-received termly talk series Tea Talk and Telescope where we drink tea (or coffee if you're like me!), invite a researcher to share a talk on their field of expertise, followed by a Q&A and an observation night. We also have short notice observation nights for all spontaneous stargazers. We love socials too and our calendar includes a space-themed bar crawl, a camping trip, and an annual dinner (fancy!).
I wish you all the very best as you make the transition to university and look forward to seeing you in person and hope to welcome you to our society soon!
Best wishes,
Anwesha Sahu
Chair, AstroSoc
If you would like to know more about AstroSoc visit their society website.
There are 41 student groups in the College of Engineering and Physical Sciences. To learn more about their projects and activities head to the EPS Societies homepage.