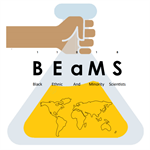 Our term started out a bit rough as most of our committee members graduated last year so we needed to form a brand new committee and almost start afresh. We spent the first few weeks of term gathering new committee members, as well as brand new members for the Society.
This was no mean feat but thanks to being able to be back on campus and see people in-person, there was some great enthusiasm! Along with the Schools of Engineering, Computer Science, and Maths we advertised our society through across social media and participated in a few Equality, Diversity and Inclusion (EDI) events for 1st year students to help raise our profile.
We also participated in the EPS Societies Fair, which is a recruitment event for all 41 student groups associated with the College of Engineering and Physical Sciences. Here we met some of our new members for the first time and as well as recruiting many more. We also met some of the other societies' committees and we talked about how we could maybe collaborate on events together in the future. I was also able to collect the BEaMS Member of the Year 2020-21 trophy which I won at the EPS Societies' Awards in July!
Our first event of the academic year was a Meet-The-Members games night. This was a really nice event as most of our members didn't know each other so they were able to meet and also learn about the Society's goals and plans. We gave a short introduction to BEaMS and our plans for this year; all the committee presented themselves and their roles. Along with a few snacks and a bit of music, we spent the late afternoon playing icebreaker games and meeting everyone in the Society. It was quite a fun event!
Our second event sadly to be moved to Spring 2022, so watch this space for more details. It will be our famous Dinner with BEaMS, which is held every year for our members. It's a night of good food and good people networking. We've decided to mix things up a bit by adding a few BAME industry members to come in and talk about their experiences in industry. This would be a great way of networking with students and professionals, and learn a bit more about career opportunities available to us. Keep an eye on our Facebook and Instagram for updates!
We've also helped promote a few events that could be interesting to our members, ranging from professional talks to mental health issues. The first was a talk held by Joel Blake OBE, a tech entrepreneur and professional speaker, which was on the subject of belonging to the BAME community in the industry. The other was a focus group organised by the EPS College to discuss ways of improving wellbeing for current and future BAME students around the campus. This was aimed at students from different ethnic, religious, and cultural backgrounds aiding student experience staff to improve wellbeing and support services for BAME students.
With all this, we're looking forward to share everything we have planned for next term! It's been wonderful to see students from many cultures embrace one another and we can't to do more. We hope to see you all again next semester!
Omar Lamrani
Co-President of BEaMS 2021-22
To find out more about BEaMS visit their society website.
There are 41 student groups in the College of Engineering and Physical Sciences. To learn more about their projects and activities head to the EPS Societies homepage.