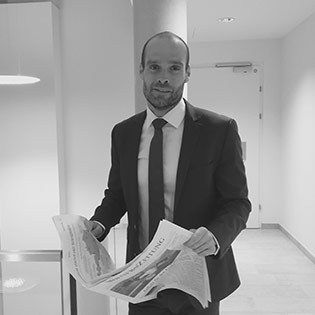 On Behind the Scenes at BLS this week, Lecturer and international law practitioner Anton Fischer talks on how he attempts to combine the things he loves to one single endeavour: to do something meaningful and to inspire.
Throughout my whole life, I've always considered myself a service provider. And I've always thought outside the box. While most of my peers back at University of Vienna prepared for a professional career as lawyers in Austria, I was curious to look beyond national borders to see what the world would have to offer. Ever since having spent a year as an exchange student in the Netherlands, I knew I wanted to live an international life.
Soon after graduation from University of Vienna, I finally decided that being confined to the laws and jurisdiction of a small country like Austria wasn't for me. I knew I wanted to move abroad and pursue an international career. I have also liked universities and being around students. Therefore, the decision to pursue a postgraduate law degree in International Law at Leiden University in the Netherlands came to me almost naturally. It provided me the opportunity to obtain an internationally well-regarded law degree, to move to Brussels for an internship afterwards and subsequently move to Singapore for work.
I've always liked to do the uncommon and attempt the impossible. That is why - back in Austria after stints in Holland, Belgium and Singapore and having been an Austrian qualified lawyer for some time – I moved to the UK to qualify as an English solicitor as well. Especially in light of Brexit, the idea to act as a dual qualified and both civil and common law qualified bridgebuilder appealed to me so much that I followed my passion and left Austria for a 2-year stint in England.
Besides my love for international work, I've always loved to share knowledge. A typical lawyer, I like to talk. A born coach, I like to advise and interact with other people, and feel happy if I can make them benefit from what I tell them. This passion for collecting and sharing information introduced me to academics. Having worked as a research assistant at Leiden University, I was more than happy to continue my academic career as a Lecturer at BLS. Of course, I get to lecture on international law topics, my favourite subject area. Furthermore, my role as Personal Academic Tutor-allows me to develop a better understanding for my students and their abilities and interests.
Even though I loved learning when I was a student, I can't say that I was a very good student. I was often bored and didn't feel that the stuff I had to learn would be of much help to my career. Certainly, I could have been a much better student given the fact that I so much loved to be at university (and not just for the parties). A Lawyer as well as a Lecturer, I therefore very much like to take practice experience and a hands-on approach to the classroom. After a lecture or seminar, I would like to be able to say that I feel my students learned something new and useful and had fun while doing so.