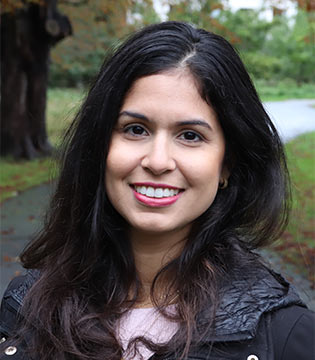 On Behind the Scenes at BLS this week, Daniela Travaglia de Oliveira Pimentel talks on the joys of coming back to education later in life and the supportive doctoral research community at BLS.
Many years ago, when I first started my law undergraduate, I had a vague idea of what it meant to work as a lawyer and an even vaguer idea of what were the possibilities as a future legal professional. I honestly believed that there weren't many options other than working in a court. Today, I can see that it could not be further from reality.
After graduation, I worked as a civil servant in the Judiciary of my home country (Brazil), which fulfilled my professional expectations, at least in a certain way. Working in court, I learned how the law operates in practice and how courts work. It was fascinating to participate in a functioning court as it hides more nuances and details that I could ever imagine as a law student. My professional experience shaped my research interest, my curiosity about how the law operates and affects the lives of those who have had their cases presented to a court.
In 2017, I was awarded an FCO scholarship to study LLM in the UK, a life-changing opportunity. I learned to use research to understand how the law works in practice and deploy it as a transformational tool to improve my country's reality. After my masters, I decided to pursue my doctorate in researching Brazilian appellate courts. A feminist agenda drives both my research interest and my look into the law and legal systems.
It might be a cliché to talk about the power of education, but that is how I feel about my 'coming back' to academia. Even late in my professional life, my continuous pursuit of academic goals leads me far from my 'common place', away from my regular life, in such a joyful journey. Despite all the challenges that 2020 brought to our lives, these last years have been one of the most rewarding periods of my life.
At BLS, I found a place to call home. I felt welcomed, respected, valued and encouraged in every step of my journey – by my supervisors and other staff members. It really is incredible how supportive the BLS community is - they're open to exchange and unfailingly ready to help. I have been developing my skills as a researcher – many more skills than I first imagined, I must say! – through valuable opportunities to teach, present my work and receive feedback from a number of senior academics.
I couldn't be happier researching what I love in the most supportive academic environment!