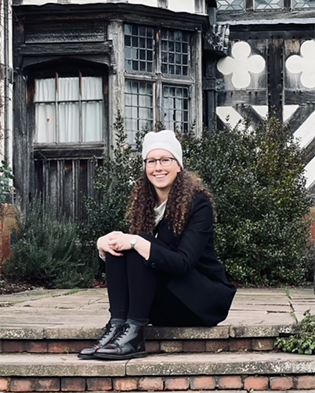 On Behind the Scenes at BLS this week, Lecturer Samantha Schnobel talks on how academia gives her the opportunity to combine her love of history, people, medicine, obligations and relationality and how she aims to spark her curiosity in her students.
I have always been interested in people. I'm interested in how they live, the nature of the relationships they form with other people, with the state, with nonhuman animals, etcetera. Law, as it later turned out, was the perfect conduit for bringing together these and other interests I have.
I was quite fortunate growing up in that my parents fostered my curious nature. My mother studied anthropology and frequently took my younger sister and I to museums where we thought about the lives that people led, how they were enjoyed, and how they were made difficult. From my father, he continues to this day to be a lover of old films and I grew up watching movies like Inherit the Wind, 12 Angry Men, film noir, and some of the great Hitchcock films like Dial M for Murder, Psycho, and Strangers on a Train (can you tell that I still have a bit of an obsession?!). Although I was incredibly shy growing up, I loved observing and learning about people.
In truth, I initially wanted to study medicine. In my early-mid teens I experienced serious illness and I wanted to help people in similar situations. Unfortunately, as basic math was not (and never will be!) a strong suit, that door wasn't open to me. The next best thing, I thought, was law. When studying for my degree, particularly in my final year when I undertook a dissertation, I started thinking about how the law constructs concepts of harm, relationality, and importantly how those concepts are moulded and shaped by assumption and conjecture. After graduating, I undertook research for a barrister in Toronto who focused on class-action law suits and thought this was going to be my path; it was satisfying work and I felt like I was doing good for claimants. A chance email brought me to academia where my PhD similarly focused on harm, the duties of care that we owe to others, and relationality.
Now, several years on, I get to combine my love for history, people, medicine, obligations, relationality all into one big pot! Academia was not something I set out to enter. Yet, when I look back to my undergraduate degree and later my law degree, it actually makes sense – I suppose it's a circle of life thing. I really loved (and continue to love) learning, and I had a great love and respect for my lecturers. When I lecture or lead seminars, I hope to spark that same curiosity in my students. And when I write, I hope to start a conversation about how the law impacts different facets of the human experience.