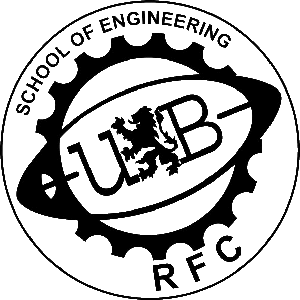 After many lockdowns and several isolations from a lot of members, the lifting of restrictions meant we were able to participate in full length rugby games again!
Despite such a small amount of time before exams and the end of the academic year, one of the club's unsung heroes Mattie Park, Fixture Sec, was able to organise a range of games for both our 1st XV and our 2nd XV / Freshers. This includes the annual Warwick Freshers game that put our new recruits to the test against a formidable Warwick side. At the end of the match, rugby was the real winner but we would like to make a notable mention to three Freshers who stood up and took charge in this game: Elis Harrop-Griffiths, Owen Young and Angus Dunnill.
The School of Engineering 1st XV started this late season with one of the biggest games in our fixture list, the battle against University of Birmingham Medical School RFC 1st XV; for many years we have been narrowly bested by the Medics. This epic game of massive collisions and dedication, ended with the School of Engineering 1st XV reigning victorious with an 18-5 win! This was one of the most enjoyable games I have had the pleasure of playing in whilst representing my club and we can't thank the Medics enough for such a competitive fixture.
Following this titanic clash, we were propositioned by the Medics to join forces against a mutual nemesis, UBRFC – the University of Birmingham rugby union team. This quickly turned into the biggest event in both our calendars for this year – a new team built from the best of two clubs to face off against the University of Birmingham Leavers' XV and so was born the Birmingham Barbarians. This fusion of clubs called for a new team and most importantly a new kit. Thanks to the tireless efforts of our kit suppliers, Kitworld Ltd, we were able to get a brand-new bespoke Barbarians kit designed by our very own Vice Chairman Max Rickerby. We were also supplied with supporters jerseys for our club's ever-growing fan base. This game put up the best rugby players in Birmingham against UBRFCs finest; with a couple of early tries from UBRFC, maybe we were in over our heads. Nevertheless, we came back and for the final passages of the game we were only 3 points down with a score of 22-19. In the dry June heat we were unfortunately unable to pull through at the end. A valiant effort from all involved and a huge well done to every player – what a way to end the season!
Big news for the summer: our tour committee have organised another mystery tour in August, COVID-19 restrictions permitting! Speculations from members past and present have Singapore as the favourite right now. Finally, I would like to thank all of the members of the 'best club in the world' but more specifically the committee. It has been a very difficult year with ever-changing restrictions and the committee have still managed to pull off some great socials and new events. This includes our North vs South Football tournament where this year the mighty South were the victors! Best of luck to the new committee led by David Hudson as the new Chairman of the School of Engineering RFC.
I hope you all have a wonderful summer!
Samraj Chahal
Outgoing Chairman, School of Engineering RFC
To find out more about the School of Engineering RFC visit their society website.
There are 41 student groups in the College of Engineering and Physical Sciences. To learn more about their projects and activities head to the EPS Societies homepage.