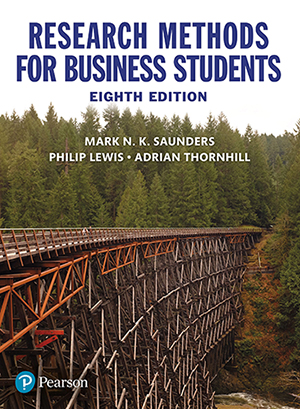 Congratulations to Professor Mark Saunders, Professor of Business Research Methods at the University of Birmingham, whose book, 'Research Methods for Business Students', is the most highly cited text in business, marketing, accounting and economics in the world according to the Financial Times.
The book, which is now in its eight edition, has already sold nearly half a million copies and has been translated into Chinese, Dutch, Greek, Russian and Vietnamese. Published by Pearson, it is available in print, e-book and interactive online formats.
Prof Saunders commented: "I am humbled that so many academics consider 'Research Methods for Business Students' worthy of recommending to their students and, crucially, that students find the book helpful in their own research".
The Financial Times new "teaching power" table calculates those business publications with the most references in business course descriptions and reading lists since 2015 rather than just looking at citations in academic journals. It was compiled for the Financial Times by Open Syllabus, a US non-profit organisation and measures influence on the teaching of a subject by tracking the extent to which the work of academics and their departments or schools is used on other courses.
The ranking is based on the 500 most frequently assigned texts in nearly 600,000 business and economics syllabuses. Prof Saunders is in good company with books by academics at top American and UK business Schools ranked second and third.