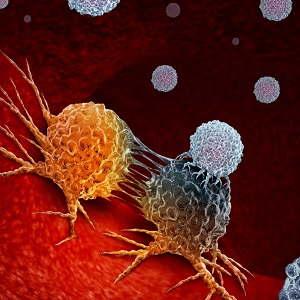 Birmingham researchers Professor Andrew Beggs and Professor Gary Middleton from the Institute of Immunology and Immunotherapy and the Institute of Cancer and Genomic Sciences have partnered with Cancer Research UK in one of the first target identification projects for the Immuno-oncology Alliance, which translates discovery science into new therapeutics for cancer patients.
The Immuno-oncology Alliance formed in 2019 and won the Scrip Award for Best Partnership Alliance in the same year1. It sets up collaborations where scientists become part of an extended project team including scientists and drug discovery experts from Cancer Research UK, antibody engineering and translational research charity, LifeArc, and resources from the Ono Pharmaceutical Co, Ltd, which has a considerable track record in developing cancer immunotherapies.
These collaborations draw together the diverse talents that are required to identify and validate new therapeutic targets. Projects are structured to ensure rapid outputs, university-based scientists direct the discovery work in basic biology, and Cancer Research UK scientists based in London and Cambridge support this while working in parallel on the chemistry.
The target identification project was awarded funding by Cancer Research UK to work alongside screening experts at the Joint Cancer Research UK-AstraZeneca Functional Genomics Centre in Cambridge, who use CRISPR and bioinformatics to identify genetic targets for new treatments.
Professor Beggs' research interests include colorectal, oesophageal and sarcoma cancer biology, while Professor Gary Middleton is a renowned expert in tumour immunobiology and the tumour microenvironment. The most intriguing aspect of their research is the use of organoids – collections of cells that are organised in three dimensions, rather than the conventional two-dimensional arrangement of individual cells in a petri dish.
Professor Beggs explains: "Organoids are essentially miniature organs. The cells are grouped together and spatially organised, and continue to perform some of the functions the organ would normally do. Cells in organoids also communicate with each other and continue to operate in low oxygen conditions, which are similar to the conditions inside a tumour."
The results of this research are expected to be published within the next few months, and will inform further drug development work undertaken by the Alliance. Under the terms of the Alliance agreement, LifeArc progresses antibody projects via its antibody screening and development expertise, and small molecule projects are taken forward by Cancer Research UK's Therapeutic Discovery Labs.
Professor Beggs commented: "It's exciting to work on discovery science that is backed by an alliance committed to rapid translation, and resourced to deliver it."
The research project was initially delayed by onset of the pandemic, during which Professor Middleton worked with the UK's oncology community to set up the UK Coronavirus Cancer Monitoring Project, which tracks cancer patients who have tested positive for COVID-19.
ENDS
References:
For further media information contact Ruth Ashton, University of Birmingham Enterprise, email: r.c.ashton@bham.ac.uk.
About the University of Birmingham
The University of Birmingham is ranked amongst the world's top 100 institutions, and its work brings people from across the world to Birmingham, including researchers and teachers and more than 6,500 international students from nearly 150 countries.
About Cancer Research UK
Cancer Research UK is the world's leading cancer charity dedicated to saving lives through research.
Cancer Research UK's pioneering work into the prevention, diagnosis and treatment of cancer has helped save millions of lives.
Cancer Research UK has been at the heart of the progress that has already seen survival in the UK double in the last 40 years.
Today, 2 in 4 people survive their cancer for at least 10 years. Cancer Research UK's ambition is to accelerate progress so that by 2034, 3 in 4 people will survive their cancer for at least 10 years.
Cancer Research UK supports research into all aspects of cancer through the work of over 4,000 scientists, doctors and nurses.
Together with its partners and supporters, Cancer Research UK's vision is to bring forward the day when all cancers are cured.
For further information about Cancer Research UK's work or to find out how to support the charity, please call 0300 123 1022 or visit www.cancerresearchuk.org. Follow us on Twitter and Facebook