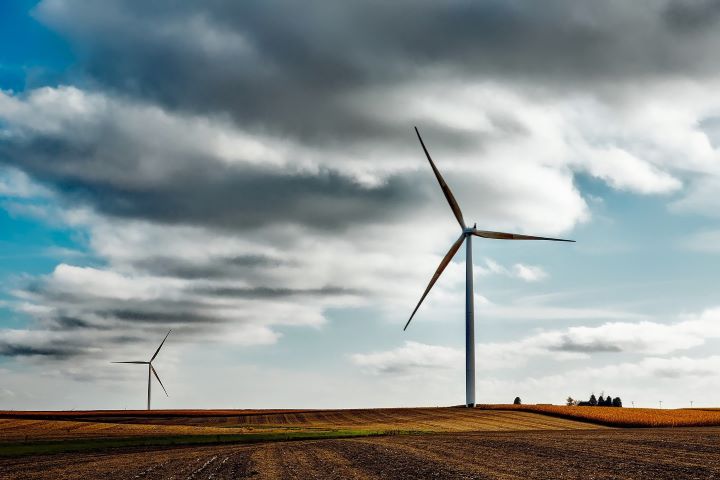 Sustainable cooling experts are creating a roadmap to help reach the UK's 2050 net-zero carbon emissions target, whilst maintaining food security for consumers and economic opportunity for the country's food industry, as the University of Birmingham secures £2.9 million of UK Government funding announced today for energy-related projects.
Backed by £1.4 million of UKRI funding, the four-year Zero Emission Cold-Chain (ZECC) project will create the first detailed road map to allow the UK food cold chain industry to identify opportunities to reduce emissions.
Led by the University of Birmingham, the project includes experts from Heriot-Watt University, London South Bank University and Cranfield University - highlighting ways in which the industry can become more competitive whilst heading towards zero-carbon.
In parallel at the University of Birmingham and supported by £1.5 million of UKRI funding, the Heat Accumulation from Renewables with Valid Energy Storage and Transformation (HARVEST) project will develop new heat storage and conversion technology to help ensure that renewable electricity is stored in times of less electricity demand and ready for use to meet high heating demand in winter and high cooling demand in summer.
ZECC project leader Toby Peters, Professor of Cold Economy at the University of Birmingham, commented: "Much of UK's food is dependent on the cold food chain, which is also a significant contributor to the country's energy demand. Our project is about thinking thermally and analysing engineering, energy resources, food quality and safety, finance and business aspects to crack the conundrum of sustainable decarbonisation of cooling and the cold-chain.
We're bringing together world-leading researchers, industry, technology innovators and customers such as farmers and retailers to look at the whole system and map the opportunities and challenges to ensuring that the chain can support UK-wide Net Zero goals and decarbonise while also meeting demand and being resilient."
Professor Peters, who is also a visiting professor at Heriot-Watt University added that the food cold chain is complex and lacks integration between sectors. Technological challenges exist, but many decarbonisation issues are techno-economic or behavioural. The project provides fresh analysis in a field yet to be researched from a system approach, also targeting food loss in line with the Sustainable Development Goals of United Nations (12.3).
Researchers will identify how sustainability of the cold-chain system can be increased by exploring integrated measures covering societal, technical, operational and economic perspectives across:
Reduce: Reducing the need for cooling, ensuring optimal conditions for food;
Shift: Transitioning to more sustainable technologies and working fluids and taking different approaches to cooling;
Improve: Enhance equipment and operation efficiency; and
Aggregate: synergies within the cold-chain to better integrate different cooling demands into single system.
The project aims to deliver energy savings, significantly reduced postharvest food losses and better quality of product to UK industry and policy makers, as well as reduced emissions related to crop loss, by:
Updating information on energy usage and CO2 emissions;
Assessing how to maintain the quality and safety of fresh produce in the supply chain;
Designing strategies to reduce food loss;
Evaluating future cooling energy consumption demands and their impact on UK energy;
Using a systems approach to explore how to manage cooling demand; and
Determining areas of intervention considering available energy and thermal resources, emission targets and other commitments as well as costs.
The HARVEST project sees researchers at Birmingham working in partnership with their counterparts at University of Edinburgh and UCL to develop a microwave-assisted process to flexibly absorb electricity and then regenerate it through reaction between thermochemical materials and ammonia solution.
HARVEST project lead Dr Yongliang Li, from the University of Birmingham, commented: "Great Britain curtailed wind power on 75% of days in 2020, with over 3.6TWh of wind power being turned off in total. The HARVEST project will develop new decentralised heat storage and conversion technology to meet high heating demand in winter and high cooling demand in summer."
UK Minister for Climate Change Lord Callanan said: "The way we use energy in our buildings makes up almost a third of all UK carbon emissions. Reducing that to virtually zero is going to be key to eradicating our contribution to climate change by 2050.
"That's why it's important that innovative projects like HARVEST and ZECC in Birmingham receive backing to develop new and effective ways to heat and cool our homes and workspaces, helping drive down the costs of low-carbon technologies so everyone can feel the benefits of cheaper and greener energy."
For more information please contact Tony Moran, International Communications Manager, University of Birmingham on +44 (0)782 783 2312. For out-of-hours enquiries, please call +44 (0) 7789 921 165.
The University of Birmingham is ranked amongst the world's top 100 institutions, its work brings people from across the world to Birmingham, including researchers and teachers and more than 6,500 international students from over 150 countries.