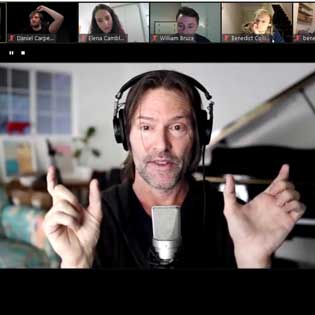 Postgraduate conductors and composers at the University of Birmingham this month received guest talks from leading international choral composers, with Eric Whitacre and Ēriks Ešenvalds joining the University's virtual provision to discuss their works.
Grammy-winning composer and conductor Eric Whitacre is one of the most popular musicians of his generation. His concert music has been performed throughout the world by millions of amateur and professional musicians alike, while his ground-breaking Virtual Choirs have united singers from over 145 different countries.
Meanwhile, Ēriks Ešenvalds is one of the most sought-after composers working today, with a busy commission schedule and performances of his music heard on every continent. After study at the Latvian Baptist Theological Seminary and the Latvian Academy of Music, he was a member of the State Choir Latvija. In 2011 he was awarded the two-year position of Fellow Commoner in Creative Arts at Trinity College, University of Cambridge. Ēriks has won multiple awards for his work and undertakes many international residencies working on his music and lecturing.
Choirs and choral training are an integral part of University Music in Birmingham, and offer unrivalled opportunities for young singers and conductors at any university in the UK. Recent activities have included commissions for leading choral composers such as Bob Chilcott and Paul Mealor, whilst University choirs play an integral role in championing the music of composers in residence in Birmingham, including Michael Zev Gordon, Ryan Latimer, and Daria Kwiatkowska. For more information about the choral programme, or the MA Music: Choral Conducting pathway at University of Birmingham, please contact Gavin Allsop.
Ēriks Ešenvalds discusses his music and compositional approach through "The Cloud".