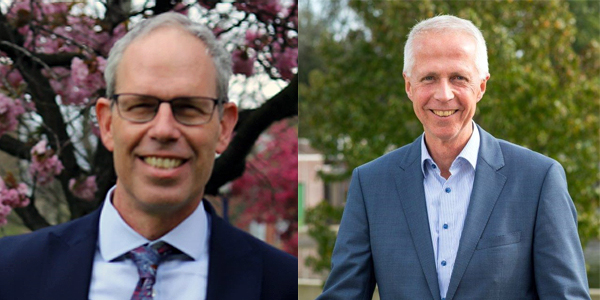 23 June 2021 marks exactly five years since the United Kingdom voted to leave the European Union. The United Kingdom European Union Membership Referendum, commonly referred to as 'Brexit' (British Exit) was decided by a narrow margin of 51.89% to 48.11% of votes. It was the beginning of the end for the 48 year-relationship between London and Brussels.

This year's anniversary is another landmark: it is also the first since the UK fully broke ties with the EU. After more than four years of uncertainty, the UK-EU Trade and Cooperation Agreement was signed at the end of December 2020 and finally took effect at 11pm UK time on 31 December 2020.
Much has been written about the economic and social consequences of the UK leaving the European Union. But what does the future hold for the scientific community?
Under the terms of the agreement, the UK will remain part of the EU's €85 billion flagship research programme Horizon Europe as an 'associate' member or third country. This means UK-based scientists will be able to take part in the programme in the same way as their EU colleagues. But there will be no access to Horizon Europe's European Innovation Council Fund, which offers support for start-up and university spin-off firms.
Scientific endeavour is born and succeeds when a community comes together. Collaboration between colleagues near and far is essential and must continue, despite any barriers put in place as a result of the UK's decision to break with Brussels.
The threat of a global 'silent pandemic' fuelled by antimicrobial-resistant (AMR) bacteria is a case-in-point. A strategic priority for the UK government, it is a central focus for the work of BactiVac. The network's crucial role involves the acceleration of vaccine development around the world (but particularly in low to middle-income countries or LMICs, the sharing of expertise and benchmarking of values and good practice. This essential work would not be possible without international professional collaboration; indeed, it is key to its success.
BactiVac Director Professor Cal MacLennan gave a keynote lecture at the recent AMR Insights Virtual Mission UK, focusing on the potential impact of vaccination on curbing AMR from a UK, european and global perspective.
He says: "Scientific endeavour and advancement happen when a community comes together. Five years on from the EU Referendum, from our perspective, we have an enduring and increasing connection with Europe. There is already a substantial amount of collaboration and we must make sure this continues. The continuing UK participation in Horizon Europe, the EU's key funding programme for research and innovation, is fundamental. The UK has been a full participant and there was a lot of concern about whether this would continue with Brexit. Fortunately it did. EU funding and collaboration are crucial.
"It is also vital that we cultivate synergies. If we want to make long-lasting impact on the global stage and achieve the best results in vaccinology, we need to collaborate, and, to collaborate, we must ensure that our partnerships in Europe not only continue but flourish. There is vital and complementary expertise in vaccinology in the UK and in Europe. Brexit will not end collaboration between the UK and EU in this area. It is too important."
Dr Marten van Dongen is the Director of the Amsterdam-based organisation, AMR Insights. He comments: "AMR is a growing global problem that does not stop at national borders. Resistant bacteria are spreading across the globe. Fighting AMR requires new, innovative solutions: new and better vaccines, faster microbial diagnostics and new antimicrobial agents and alternatives such as phage therapy. Or better and cheaper methods to remove antibiotics from wastewater.
"For this, open innovation is an important condition for success. Innovation is not a linear process from A to B carried out by one party. Open innovation is an iterative, network-based process that relies on cooperation with multiple parties and is successful when public institutions (such as universities, research laboratories and hospitals) cooperate with private organisations (such as start-ups, SMEs and multinationals).
"In this process, national borders should not be an obstacle. And they aren't: the recent AMR Innovation Mission UK 2021 shows that international cooperation in finding innovative solutions for AMR is flourishing as never before. The AMR Innovation Mission UK is an initiative of Dutch company AMR Insights and Innovate UK and was set up in close cooperation with Innovate Edge UK and NIHR. More than 400 participants from 64 countries took part in the mission. In addition to 112 participants from the UK, there were 232 from the EU and 58 from the rest of the world. These represented SMEs and start-ups, academic institutions and other institutions."