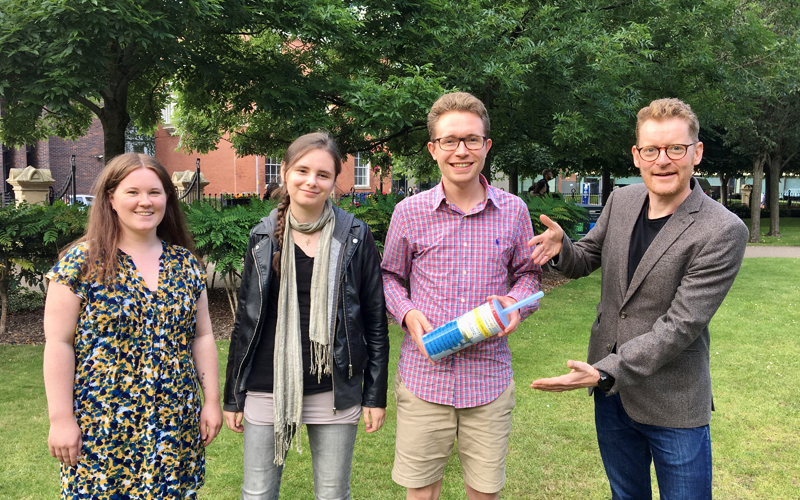 Several members of the Birmingham Molecular Climatology (BMC) Group (James Bendle, Jonathan Hall and PhD Students Alice Hardman, Bridget Warren and Matthew Allison) have successfully organised and hosted the 31st annual meeting of the British Organic Geochemical Society (BOGS) in late July (21st to 22nd). Originally planned for Summer 2020, the conference was postponed for a year due to COVID-19. In light of the ongoing pandemic, the organising committee decided to host the conference virtually this year to ensure the safety and well-being of all participants.
Over 90 organic geochemists from academia and industry attended the two day event. The conference opened with a keynote address from Professor Erin McClymont (Durham University) on reconstructing Southern Ocean sea ice ecosystems using a suite of biomarkers, including fatty acids and their stable isotopes. Erin's keynote was followed by 25 presentations and 14 flash talks on a variety of themes, including past and present environments, pollution monitoring and remediation, and advances in geochemical techniques. James presented a talk on the calibration of bacterial 3-hydroxy fatty acid-based palaeoclimate proxies in global soils, based on his research recently published in Geochimica et Cosmochimica Acta. Jonathan's talk focussed on unravelling longstanding data-model discrepancies in the NE Atlantic and Nordic Seas during the mid-Pliocene Warm Period, using new alkenone records. Bridget presented a flash talk on tracing biomarker and stable isotope signatures of carnivorous plants in ancient sediments. Matthew's flash talk outlined his plans to examine the effects of burial-related heating on lipid-based temperature proxies derived from surface sediments onshore Iceland. An interactive and engaging quiz was held on the first evening for the community to relax, catch-up and get the competitive juices flowing, with fun rounds including geochemical anagrams and guess the laboratory-themed pictures.
The conference concluded with prize-giving, subsidised by our industry sponsors Elementar and Integrated Geochemical Interpretation Ltd. Bridget and Jonathan both received prizes for best flash talk and runner-up talk, respectively. Everyone thoroughly enjoyed organising the conference, chairing the various sessions, networking with presenters and entertaining the delegates. All members found the organisation of this virtual conference a highly rewarding experience, helping to further develop their event management, interpersonal, financial and IT skillsets. Hosting BOGS was a fantastic opportunity for the BMC group to showcase the wide range of organic geochemistry research undertaken at Birmingham, and we look forward to the opportunity of hosting BOGS again (hopefully in-person) in the not-too-distant future. We are delighted to pass on the coveted BOGS brush to the University of Southampton for the 32nd meeting next summer.