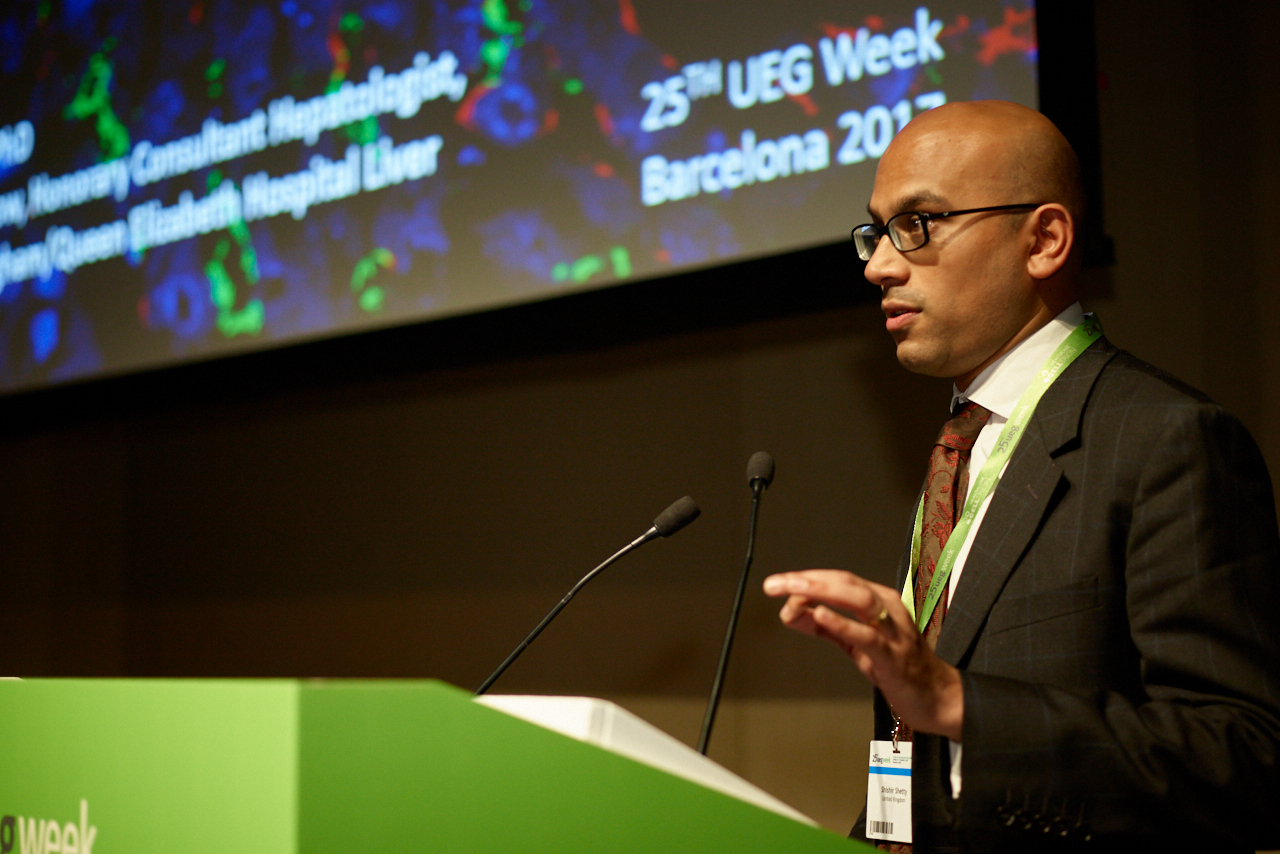 Dr Shishir Shetty is a Cancer Research UK Advanced Clinician Scientist and principal investigator in the Centre for Liver and Gastrointestinal Research. He is also an honorary consultant hepatologist at Queen Elizabeth Hospital Birmingham (QEHB) where he specialises in the management of hepatocellular cancer and neuroendocrine tumour.
I am an honorary consultant hepatologist in the liver unit at QEHB, a regional service covering a 10 million population catchment area. Most of our patients with primary liver cancer have an underlying inflammatory liver disease. I am a member of a multidisciplinary team that specialises in caring for these patients.
As a Cancer Research UK Advanced Clinician Scientist at the University of Birmingham I lead a team that undertakes discovery science in the field of chronic liver disease and liver cancer. We hope to identify new immunotherapies for liver conditions by accessing human tissue from the transplant programme at QEHB and setting up models in the lab.
My interest in research developed once I had started training as a specialist registrar in the West Midlands Deanery. Supervising consultants who I worked for advised and encouraged me to seek out research experience, as a period of research would be a great way to pick up new skills, focus on a specialist interest in my field and develop my career.
I met with senior clinicians who were undertaking research within the region and found the area of liver immunology particularly interesting. I approached Professor David Adams to spend time in his laboratory. The challenge was then to obtain funding for protected time to undertake out of programme research experience. My applications to major funding bodies, including the Wellcome Trust and Medical Research Council, were unsuccessful, but fortunately a dedicated gastroenterology charity was offering three-year competitive fellowships that I managed to obtain.
The period of research I undertook in the liver labs helped me gain scientific skills and the access to clinical material from patients allowed me to link my scientific findings to human liver disease. This experience led me to consider a career where I could combine clinical work with ongoing research. On completing my training and building on the work from my PhD I successfully applied to the Wellcome Trust for a post-doctoral fellowship. This provided funding and time to develop my independent research programme.
I think most trainees are usually put off by research because of the challenge of balancing clinical competence and staying up to date with trying to undertake a focused period of research, including possible gaps and delays in the completion of their training. To try and alleviate this there have been moves to formalise academic training into an integrated academic training (IAT) pathway set up by the National Institute for Health Research (NIHR).
It is challenging to maintain a clinical/academic/social balance and get highly competitive research fellowship funding to undertake a MD/PhD. Nevertheless, undertaking research that can potentially benefit patients can be very rewarding. It has been exciting to see the work from my PhD now supporting the development of early phase clinical trials in cancer.
Additionally, in my experience most concerns about gaps in picking up skills and delaying the completion of training are unfounded. Some trainees may feel it is not possible to take on research if they are not in academic training programmes, but there are other opportunities. For example, the Metchley Park/University of Birmingham starter fellowships are an excellent opportunity to undertake research during clinical training.
It may sound a bit clichéd but you definitely need resilience and to learn how to deal with failure. Many projects take time to mature and reach a competitive stage for funding and often fellowship applications are not successful the first time. Obviously this is discouraging, but it is critical to take on board criticism and reapply. Your initial projects will be guided by your supervisor but as a clinical academic you have to be prepared to present your results and be able to connect with different audiences.
If you go on to develop your own research field you must be prepared to spend long periods writing grants, manuscripts etc. Probably the most important skill is that you need to learn is to be a team player and collaborate. It is very unlikely that a clinical academic can be successful on their own, support from a team of clinical colleagues and scientists is vital.
It is best to start early in speaking to senior colleagues and looking for research opportunities. Putting in funding applications takes much longer then I realised, often waiting up to six months for decisions. Starting early also gives you time to find the right supervisor and the field of research that most interests you. To increase the likelihood of success, it's best to find a supervisor who is at least a national leader in their field. It also helps if you have time to develop some ownership of a project before applying for full time funding.
If you are considering a period of research I definitely recommend you go for it. The range of skills you pick up are completely different from your clinical training but will always be beneficial for whichever career path you eventually decide to take.