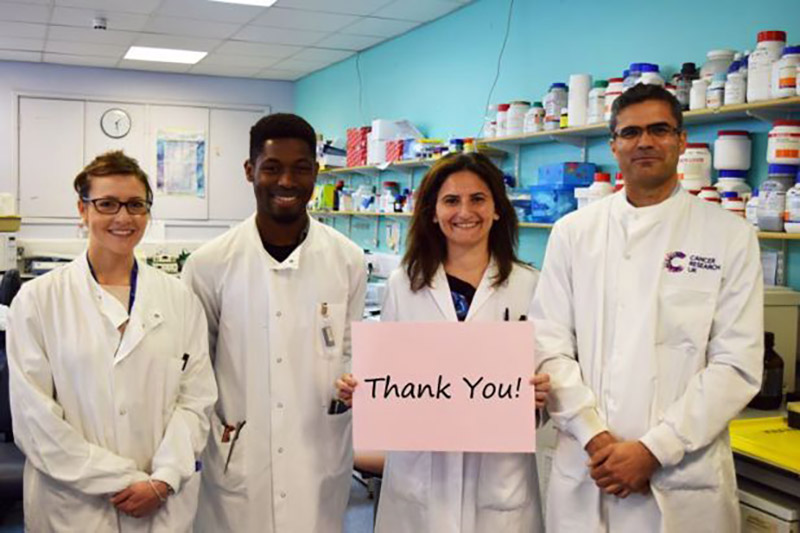 University of Birmingham cancer experts have welcomed a £120,000 charity donation to purchase new equipment that will help to speed the development of new treatments which could save the lives of children and adults with the disease.
The Azaylia Foundation's contribution will enable Dr Francis Mussai's team to buy a cell sorting machine and use the new equipment to separate cancer cells from normal blood and tissue cells much more quickly.
The Foundation was established in memory of Azaylia Diamond Cain, by her parents Ashley and Safiyya, after they used a social media appeal to raise funds to take their baby daughter to Singapore for revolutionary treatment that was their last hope.
Although Azaylia died earlier this year aged just eight months, former Coventry City footballer Ashley and his partner Safiyya have pledged to continue to support and offer a chance of life to children fighting to beat the odds against cancer.
Dr Mussai, Clinical Senior Lecturer in Paediatric Oncology in the University of Birmingham, commented: "Ashley and Safiyya donated some of Azaylia's cells to our team and we continue to use them in our research – we're extraordinarily grateful to their Foundation and its supporters for this generous gift that will make a huge difference to our work.
"The cell sorting machine will be a game changer, allowing us to separate cancer cells from blood and tissue much more quickly – allowing us to potentially speed up the development of new cancer treatments, especially for children."
Dr Mussai's research in the University's Institute of Immunology and Immunotherapy, focusses on understanding the interaction between children's and adult cancers and the immune system.
In particular, the research explores how cancers suppress the immune response to avoid destruction. Additionally, Dr Mussai aims to develop novel therapies for cancers and rare diseases, from pre-clinical studies through to early phase clinical trials.
We are thrilled to be able to fund this incredible piece of equipment that will hopefully make a real positive impact in the world of Children's cancer. The Azaylia Foundation was made possible through the support of our incredible community who all have a part to play as we right fearlessly against cancer.

Safiyya Vorajee
More about Medical and Dental Sciences at the University of Birmingham
The Azaylia Fundation aims to provide funds to families fundraising for treatment not readily available on the NHS, as well as working with families to fund and deliver morale-boosting experiences. Money donated is also used to focus on educating parents and raising awareness of the signs and symptoms of cancer, as well as coping with diagnoses.